A spokesperson from Eschmann explains the benefits of the company's autoclave portfolio.
For almost 200 years, Eschmann has been providing ingenuity in infection control. Today, our range of autoclaves is designed to meet the needs of every modern practice:
The Little Sister SES 3020B vacuum autoclave (top)
The Little Sister SES 3020B ensures that you can process every load in the most convenient way. Able to run both 'B' and 'N' type cycles with cycle times starting from 31 minutes (with drying)*, the system also has a dedicated handpiece cycle for hollow instruments. It also features longer trays, meaning that it can process a higher volume of instruments per cycle for ultimate convenience.
Its 23-litre capacity means that you can quickly process loads of up to 6kg.
Plus, this autoclave features multiple microprocessing units that independently control and verify every cycle – a feature made possible through our unique cycle verification and air detection technology.
The Little Sister SES 3000B vacuum autoclave
Able to accommodate every type of load, the Little Sister SES 3000B also gives clinicians the ability to select both 'B' and 'N' type cycles. Its 17-litre capacity means that it can easily accommodate 5kg loads. Plus, fast cycle times from just 21 minutes (with drying)* mean that you can easily implement the system into your daily workflows, enhancing your instrument sterilisation and reducing the strain on staff.
The Little Sister SES 2020N non-vacuum autoclave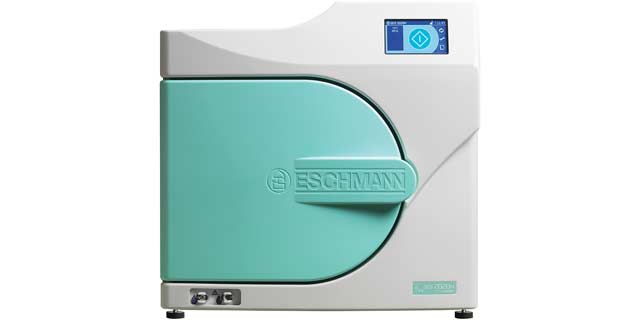 Featuring a 17-litre capacity that can accommodate loads of 4.5kg and fit 10 x HFiT cassettes, the system also has cycle times starting from just 12 minutes (without drying)*. As such, the Little Sister SES 2020N is another perfect option for helping to relieve the pressure on your staff while guaranteeing an excellent standard of sterilisation.
Rapid cycles including features such as active drying ensures that instruments are dried inside the chamber – eliminating any change of cross-contamination during manual drying.
The Little Sister SES 2010 Touchscreen non-vacuum autoclave
The Little Sister SES 2010 autoclave offers full cycle validation and a USB port so that cycle records can be downloaded at a later date, making it a convenient way to ensure compliant instrument sterilisation. A feature that if available on all our Eschmann autoclaves.
Compact and user-friendly, the system has an 11-litre capacity chamber and can accommodate a combination of trays depending on your needs, for instance 6 x examination instrument trays or 6 x HFiT10. With cycle times from just 11 minutes (without drying)*, this system is a swift and convenient addition to your infection control arsenal.
Protect your investment with Care & Cover
One of the biggest benefits of choosing an autoclave from Eschmann is that you can have ultimate peace of mind that your investment is fully protected.
Our Care & Cover service policy includes unlimited breakdown cover, annual service & software upgrades and more. Professionals who choose to take out a Care & Cover policy will also benefit from access to Eschmann's nationwide team of engineers, technical telephone support to help resolve problems and Enhanced CPD user training – ensuring that the whole team are confident in using the equipment safely and have the knowledge they need to remain compliant to CQC guidelines.
Care & Cover also includes annual validation and pressure vessel certification, so you can be certain that your equipment is compliant, running with optimal efficiency and minimal downtime.
With no hidden costs, Care & Cover includes:
• Annual validation and pressure vessel certification
• Annual service and free software upgrades
• Unlimited breakdown cover
• Unlimited Eschmann parts and labour
• Nationwide on-site support
• Enhanced CPD user training
• Technical telephone support
To discover more about the full autoclave range from Eschmann, go to https://www.eschmann.co.uk/dental-health-solutions/autoclaves/
*All cycle times depend on the load
See the original article here: Dental Industry Review