Updated The US Court for Federal Claims on Wednesday denied motions by the Department of Justice and Microsoft to dismiss an Amazon Web Services lawsuit challenging the Defense Department's decision to award its Joint Enterprise Defense Infrastructure (JEDI) cloud computing contract to the Windows giant.
Since 2019, AWS has been trying to overturn the government's determination to hand Microsoft the $10bn single-vendor JEDI contract following a multi-year battle. Last October, AWS claimed in a court filing that President Trump had interfered in the Defense Department's procurement process due to his apparent dislike of Amazon founder and Washington Post owner Jeff Bezos.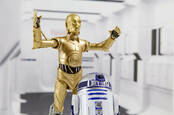 They were not the cloud you were looking for, insists Amazon Web Services in unsealed JEDI protest
The Department of Justice and Microsoft asked the judge hearing that case to dismiss AWS's lawsuit but they've now been rebuffed, to the delight of AWS.
"The record of improper influence by former President Trump is disturbing, and we are pleased the Court will review the remarkable impact it had on the JEDI contract award," an AWS spokesperson said in a statement provided to The Register. "AWS continues to be the superior technical choice, the less expensive choice, and would provide the best value to the DoD and the American taxpayer.
"We continue to look forward to the Court's review of the many material flaws in the DoD's evaluation, and we remain absolutely committed to ensuring that the Department has access to the best technology at the best price."
The court's decision doesn't undo anything, but does add some uncertainty back into a situation the Defense Department and Microsoft would prefer to have settled.
AWS has argued not only that Trump's animus against Bezos unfairly politicized the winner-takes-all contract but also that the Defense Department ignored AWS's purported technological advantages.
Microsoft didn't immediately respond to a request for comment but the company in the past has blamed AWS for making an ill-considered bid.
"Amazon may make a lot of noise about bias and interference, but the DoD's independent Inspector General made it clear that the department established and followed a proper procurement process," said Frank Shaw, corporate VP of communications at Microsoft, in a blog post last year.
"And no one forced Amazon to bid high in the procurement. Amazon alone made the choice to bid high, but now wants to find a way to avoid the consequences of its own bad business decisions." ®
Updated to add
"This procedural ruling changes little," said Frank X. Shaw, corporate veep of Microsoft Communications, told The Register via email.
"Not once, but twice, professional procurement staff at the DoD chose Microsoft after a thorough review. Many other large and sophisticated customers make the same choice every week. We've continued for more than a year to do the internal work necessary to move forward on JEDI quickly, and we continue to work with DoD, as we have for more than 40 years, on mission critical initiatives like supporting its rapid shift to remote work and the Army's IVAS."
See the original article here: The Register