During the national lockdowns, we spent a lot of time thinking about food. Whether it was enjoying homemade lunches or sweet treats after a stressful home-schooling session, many of us focused on meals and snacks as a way to provide structure to our days.
We cooked more at home, but we also ordered more takeaways. Dominoes, a well-known pizza delivery company, has seen such a boom in business – and its profits – as a result of the pandemic, that it plans to open a further 200 outlets.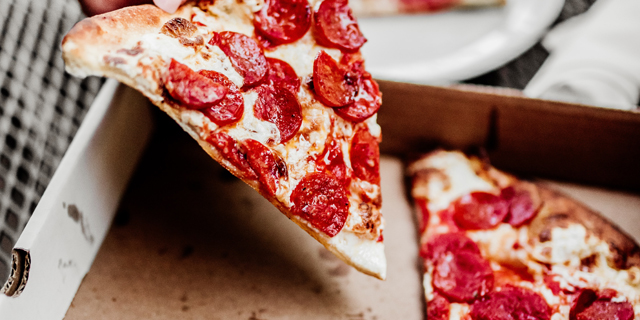 And yet, perhaps, the lockdowns have motivated you to overhaul your lifestyle, including more healthy eating. Or maybe you put on weight as a result of the crisis and, with light now on the horizon, you're determined to get back into shape.
Not everyone has a choice. Millions of households across the UK will be on a tighter budget thanks to the economic effects of the pandemic, which could impact both what and how they eat. Before Covid, we had seen an upward trend in child food poverty. In England alone 1.4 million children were claiming free school meals, and low-income families struggled when schools were closed.
The need for food banks has also surged. Between 1st April 2019 and 31st March 2020 – just a week into the first national lockdown – one food bank network distributed 1.9 million emergency parcels to people in need.
Will the pandemic lead to lasting change? Perhaps, but there is evidence to suggest that, for those of us who have a choice, it has merely hastened the pace, rather than providing a catalyst for change.
Over the last decade choosing organic and making considered, ethical choices when buying meat or fish are two areas where we have seen our buying behaviours alter, and this appears to have accelerated. The organic food and drink market saw a 12.6% growth in 2020 – organic farming methods are generally considered better for the environment – so, along with improving our health, sustainability could be driving the increase.
Plant-based eating is a food trend that predates and was boosted during the pandemic. Veganuary – when people are encouraged to try out a vegan or vegetarian diet for a month – has seen its popularity soar in recent years, and in 2021 nearly 600,000 Brits took part, more than ever before.
Research at the end of 2020 indicated that people were including more fruit and veg in their diets. Tesco announced that its customers are: "Buying more vegetables, fruit and salad than at any point in the last 20 years."
So, in conclusion, we're looking at a combination of trends – a desire for a healthier lifestyle, more ethical/sustainable consumerism, alongside an awareness of how important nutrition is for all-round wellbeing, all of which may have been accelerated by the pandemic.
People used the time to review their attitudes to food, to look and feel better, boost their immunity and in some cases, lose weight. We must also recognise that certain foods have been used as a reward – and who didn't need a treat or two in such challenging times?
We ate more takeaways, ringing Dominoes' bell, but comfort food in general tends to be sugary and/or high fat. A note needs to be added about alcohol, a glass of wine helps punctuate the end of the day when the lines between "work" and "home" became blurry, but we must be careful not to abuse it.
The trick is to find the right balance. Nobody should feel guilty about enjoying a little of what they fancy if it genuinely makes them feel good, but a lot can be too much, hence the COVID spare tyre. Food is essential, it can be used to nourish, to treat, even to underline a commitment to caring for the environment, but it must always be used as part of a healthy lifestyle.
Author
Dawn Woodward is the National Sales manager for Curaprox UK. She adds: "A truly healthy diet, taking every day exercise and making sensible lifestyle choices should include learning how to elevate your oral hygiene routine to remove bacteria and mitigate the damage caused by harmful acids found in certain foods and drinks.
"More effective cleaning is simple to achieve with the right tools and techniques. Curaprox offers a range of innovative solutions, including the Hydrosonic Easy electric toothbrush, which has a powerful hydrodynamic effect to deliver a thorough yet gentle clean to even hard-to-reach areas."
For more information, call 01480 862084, email This email address is being protected from spambots. You need JavaScript enabled to view it. or visit www.curaprox.co.uk.
See the original article here: Dental Industry Review