Refresh
2023-05-22T16:19:18.760Z
Good morning from sunny Las Vegas, and welcome to today's coverage. We'll be bringing you the keynote announcements as they come, with the hosts set to take the stage in just under 45 minutes.
2023-05-22T16:52:19.134Z
We're in the arena, which is quickly filling up. Michelob Ultra Arena can seat 12,000, to give an idea of the conference numbers. A live DJ is providing a dance-heavy mix, which is a nice change from a typical pre-keynote playlist.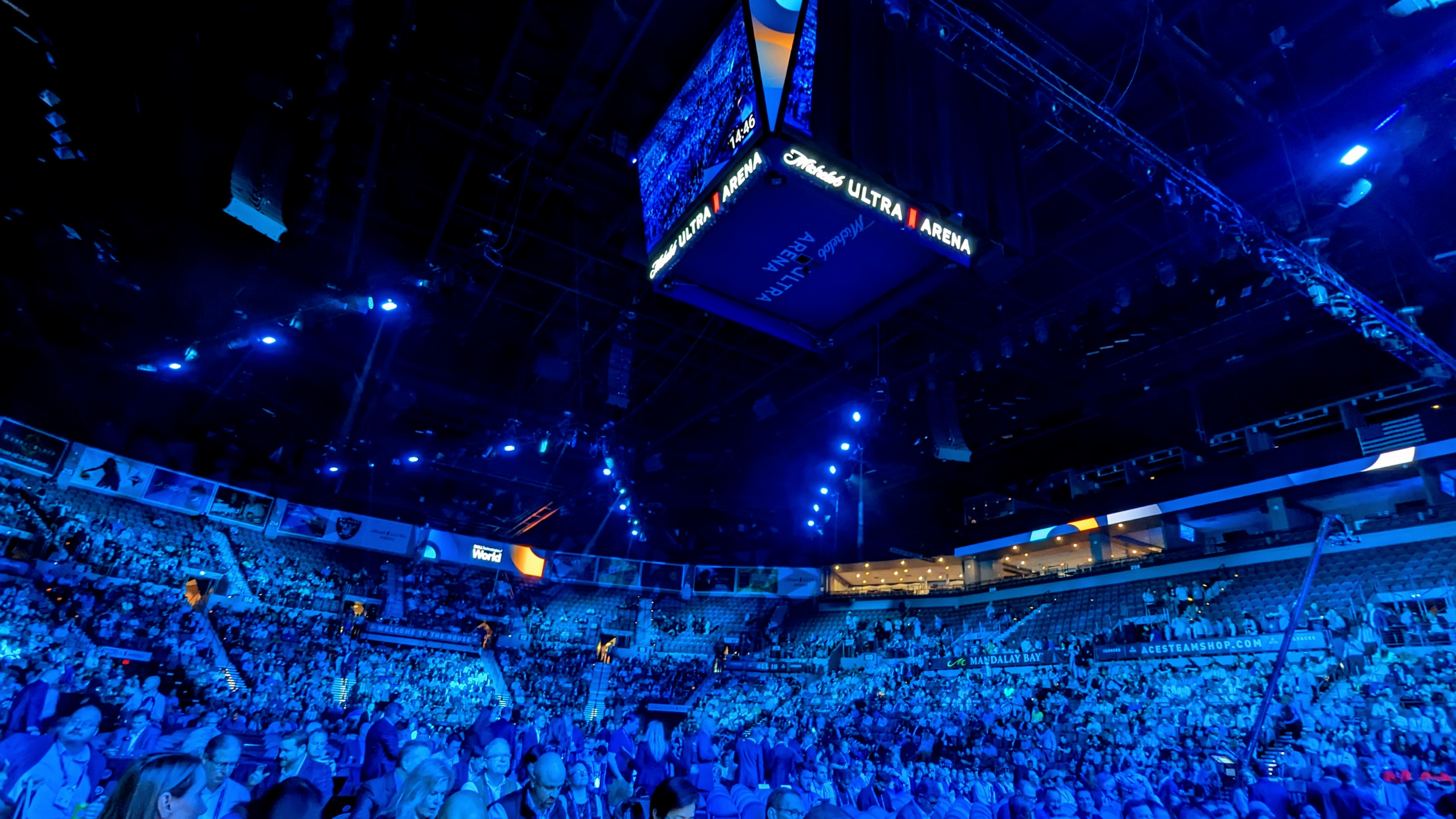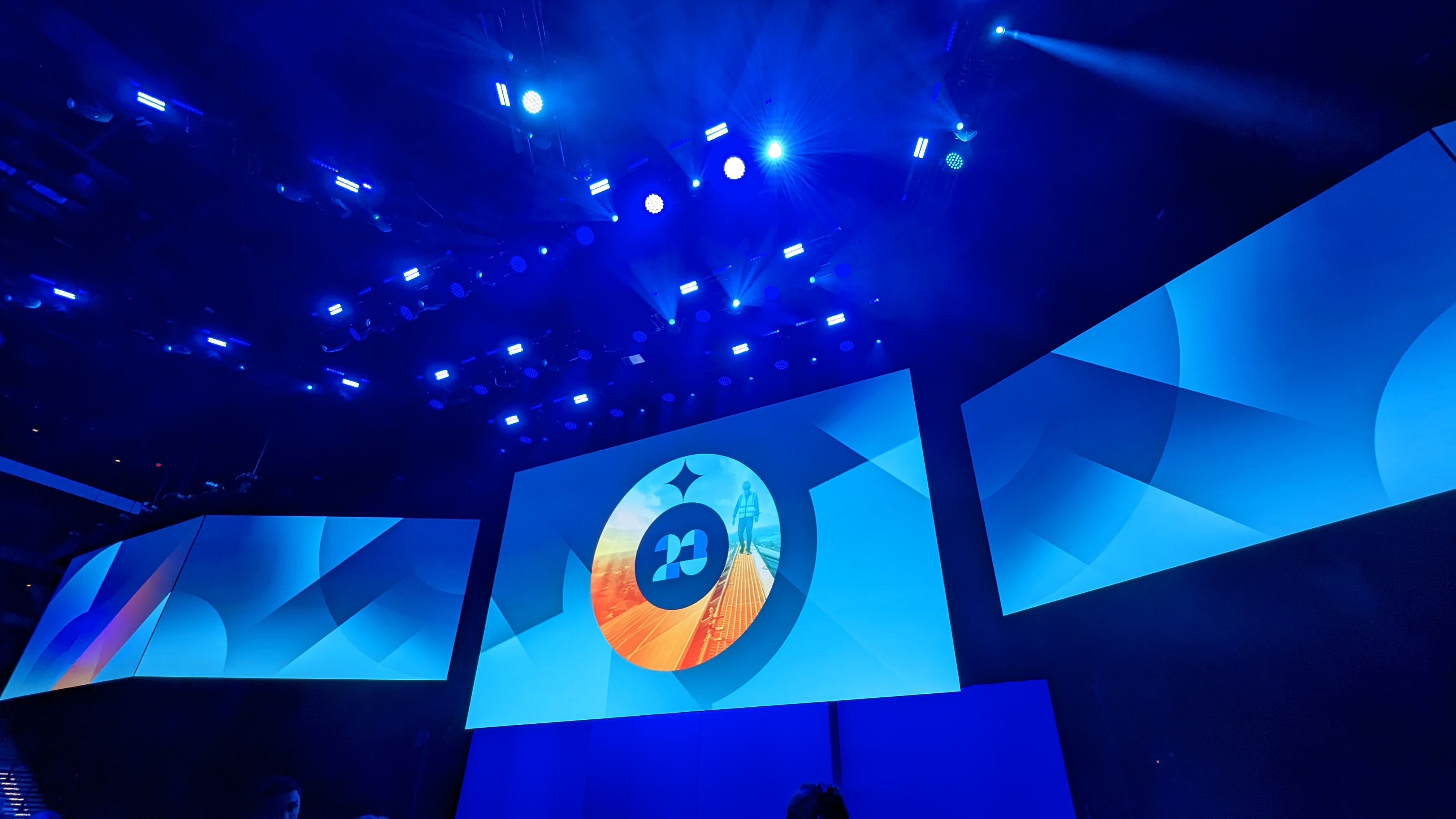 2023-05-22T17:07:16.972Z
And we're off – Michael Dell, CEO at Dell, has taken to the stage to the tune of David Bowie's 'Starman'.
He opens by stating Dell exists to bring its customers' ideas to life, "whether your big idea is curing cancer, frictionless commerce, or sustainable supply chain".
2023-05-22T17:17:11.929Z
Dell teases the massive potential of AI.
"AI, just like the PC, the internet, and the smartphone before it will transform industries and the way we live in work," he tells the audience.
"IDC estimates that by 2025, 88% of servers used for AI workloads deployed at the edge will be used for inferences. To support this, we're going to need new architectures."
Dell highlights the PowerEdge XE9680, which boasts eight Tensor Nvidia core H100 chips, as one such solution.
More on corporate AI strategy is being discussed. "The real opportunity is to reimagine your organization," Dell states.
"If you're not already using AI, posturing your organization, and thinking deeply about reinvention, you're already behind."
We've been promised more on that in tomorrow's keynote, which we will also be covering in detail.
2023-05-22T17:22:36.065Z
Dell has just promised the "largest expansion ever" of Dell's Apex offerings.
He's teased offerings in cooperation with Microsoft, and we're now being treated to a conversation between him and Satya Nadella.
One such expansion announced today is Apex Block Storage for Azure, which will be running on the newly-announced Apex Cloud Platform for Microsoft Azure.
2023-05-22T17:25:37.833Z
A brief reprieve on announcements to travel to Pandora, the fictional world in which James Cameron's Avatar is set.
The filmmakers relied on Dell Technologies' to render graphics, by providing exascale storage and the processing power needed to deliver the detailed visual effects.
2023-05-22T17:28:12.052Z
Now it's time to welcome co-COO Chuck Whitten to the stage.
He says that while last year he focused on how Dell has become "an end-to-end leader built for this moment in tech," he wants to focus on the tangible innovations that can help businesses today.
2023-05-22T17:32:06.351Z
Whitten outlines the five most-common challenges facing enterprises today, with the first being 'future of work', and conversations around hybrid work.
Next it's 'multi-cloud', with Whitten noting that customers want "multi-cloud by design, not by default".
2023-05-22T17:34:03.732Z
The next three are AI, edge, and security. These won't be talked about too much today, but Whitten notes that these are pressing issues that will be unpacked tomorrow.
"What I know you're feeling is pressure, to apply generative AI to your private data sets, and to do it smartly, securely and ethically," he states.
Whitten also lists the current issues with edge solutions.
"Existing models don't solve the challenges of running multiple critical and disparate OT workloads, operating in remote and harsh environment."
On security, he states that customers want security to be better embedded in Dell's existing solutions rather than more security products.
2023-05-22T17:37:22.383Z
We're doubling down on hybrid work now and welcoming Ed Ward, president of client product group at Dell Technologies to the stage.
We're being given a look at the new Dell Latitude laptop family, which Ward and Whitten have chosen to highlight Dell's approach to hybrid work. The new series is lighter, and Ward claims that the device's LED keyboard uses up to 75% less power.
2023-05-22T17:40:36.090Z
We've turned to the Precision 5680, which the firm is heralding as a powerful solution for developers looking to train AI models.
"All this power helps developers to train large AI models with 5 million to 100 million parameters, running AI at the edge and controlling the training data," says Ward.
2023-05-22T17:42:16.749Z
We've got another announcement, in the form of Apex PC-as-a-service, through which IT teams can obtain hardware, peripherals, and software services.
It's a predictably-priced way for enterprises to roll out the latest Dell hardware from across its entire PC portfolio including its XPS laptops.
2023-05-22T17:46:06.100Z
Now back to multi-cloud, with Whitten outlining the three things a firm needs to access cloud innovation. First, a set of ground-to-cloud capabilities – which Dell Technologies has approached through Project Alpine, its work to connect storage software to public clouds.
Next, cloud-to-ground and "air traffic control" or consolidated deployment monitoring and management.
Whitten has welcomed Roshan Navagamuwa, CIO at CVS Health, onto the stage to talk about its work with Dell Technologies in more detail.
2023-05-22T17:48:42.184Z
"We need a spectrum of technologies to be able to solve our problems," says Navagamuwa.
"Dell has that spectrum of technology for us, but just as importantly what we found is it's important to simplify and standardize all of it… that's what I really like about Apex Block Storage for Azure."
2023-05-22T17:52:06.398Z
Two announcements have just been made in quick succession: Apex Block Storage for AWS, Apex File Storage for AWS.
"On the Block side, this means linear scale outperformance, better resiliency, and native mobility," Whitten states.
"And on the file side, it means enterprise scale data protection."
2023-05-22T17:56:17.099Z
Another announcement, in the form Apex Cloud Storage for VMware.
"This is our purpose-built cloud platform for VMware virtualized environments," Whitten states, pointing out that it's a good solution for customers looking to move and scale workloads across public cloud, on-prem environments, and existing VMware skillsets.
2023-05-22T18:00:26.680Z
A short clip of Red Hat CEO Matt Hicks has just been played, to herald the announcement of Apex Cloud Platform for Red Hat OpenShift.
"Red Hat brings the open source container ecosystem, and Dell brings the leading infrastructure and automation," Whitten says.
"I totally agree," Hicks responds.
"It moves that requirement on customers, to let them focus on their business and trust and rely on Red Hat's ability to build this platform, maintain it, and Dell's ability to build the infrastructure."
2023-05-22T18:06:23.301Z
Struggling to keep track of all these new offerings a bit? You're not alone, and Dell has another announcement to make all this a little more manageable.
Whitten has just announced Apex Navigator for Multicloud Storage and Apex Navigator for Kubernetes, which will provide that 'air traffic control' which he mentioned earlier.
"[Navigator] provides observability across your cloud estates, and helps you optimize it first by letting you activate with mobility, and over time by embedding intelligence into the software that will help you put the right workload in the right place to maximize performance and minimize cost," Whitten declares.
2023-05-22T18:09:51.033Z
In a final announcement for today, Whitten formally announces a strategic partnership between Dell and Databricks. The firms will work together to empower customers to derive insights from their data more easily.
Businesses will be able to use Databricks alongside Dell Object Storage to analyze data where it is, without having to first move it to the cloud.
2023-05-22T18:14:44.638Z
And that's a wrap for today's keynote. We'll be providing live coverage of tomorrow's biggest announcements – with AI teased as featuring heavily – alongside in-depth coverage.
Make sure to keep your eye on the website for news and more from Dell Technologies World 2023, as the conference is far from over.
2023-05-23T16:50:47.907Z
Good morning once again, and welcome back to our coverage coming live from the Michelob Ultra Arena. We'll be reporting the keynote announcements as they're made, with ten minutes until things are set to begin.
2023-05-23T16:59:19.760Z
Yesterday, Dell announced a slew of new offerings aimed at multi-cloud success with its largest-ever Apex expansion.
Announcements included:
Dell Apex loud Platforms for Azure, VMware, Red Hat OpenShift
Dell Apex Block and File Storage for Amazon Web Services (AWS)
A new partnership with Databricks
Dell Apex PC-as-a-service
Dell Apex Navigator
We also had announcements around Dell's Precision and Latitude laptop families, with the former providing the power necessary to train small AI models.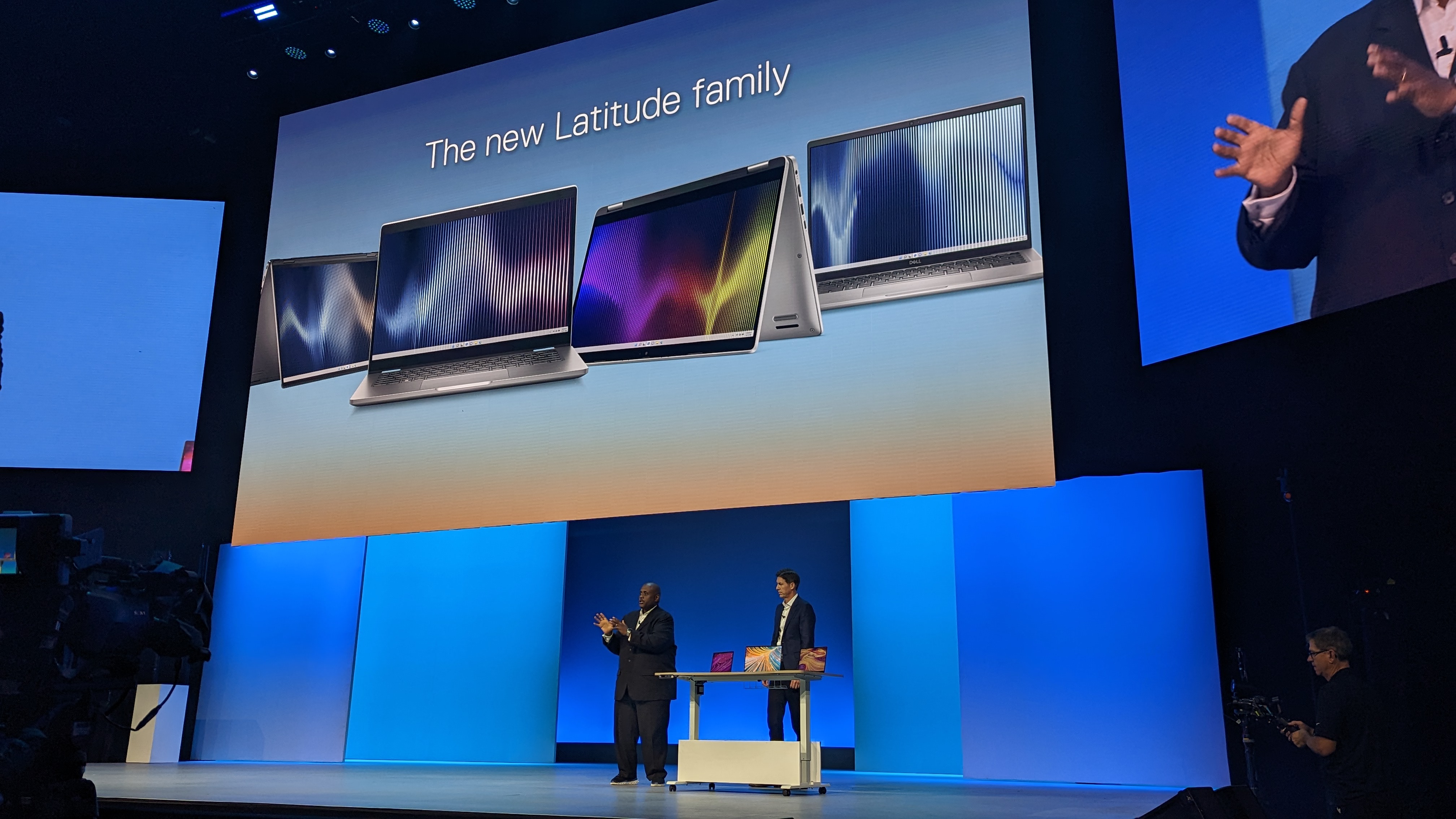 The day one beat-by-beat is still available right on this page. Now on with day two.
2023-05-23T17:02:48.669Z
Proceedings have begun, with Co-COO Jeff Clarke taking to the stage in a more muted manner than Michael Dell did yesterday – no David Bowie for the crowd today.
Looks like we're starting on a gag about ChatGPT, with an AI graphic named 'ChatDTW' telling Clarke he "looks handsome" on a screen behind him.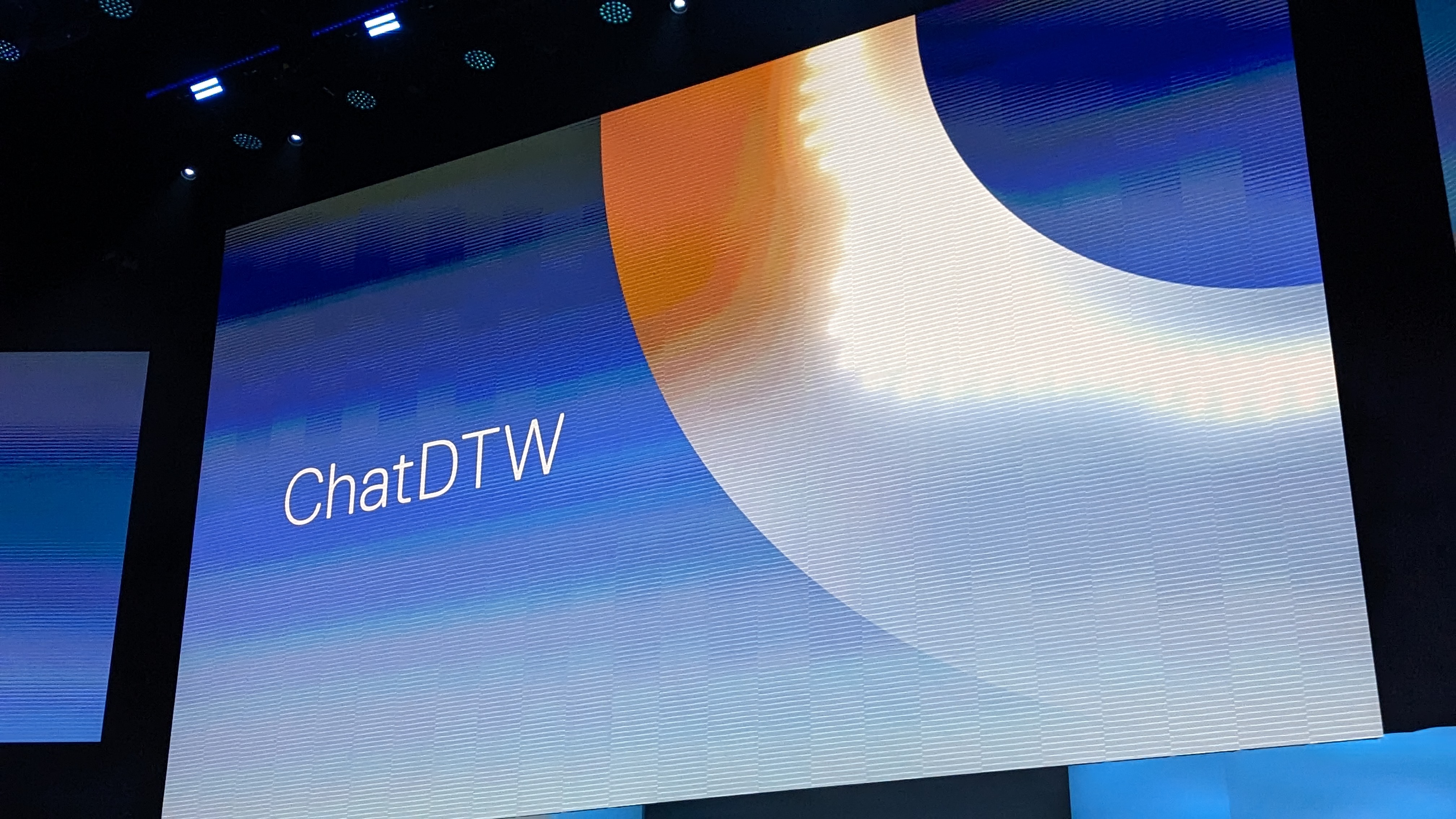 2023-05-23T17:05:10.559Z
Clarke tells the crowd that it has been Dell's greatest year of innovation ever, and is met with applause.
He notes that the firm has launched more than 120 new products in the last year, across divisions including its telco and its environmental achievements.
"Last year alone, we diverted more than 5000lbs of ocean-bound plastics that made its way into our products and packaging," he states.
2023-05-23T17:07:27.612Z
Clarke pays tribute to the entire team at Dell, to more audience applause.
He says Dell has an "unmatched breadth of innovation in our industry. No one can come close to what we've done in the last year."
2023-05-23T17:10:35.301Z
More on cloud to begin with, following Monday's mammoth announcements around Apex.
"It all starts with your data," says Clarke.
"We believe that if we get your handling of the data right, everything else can access the tools, the choice of cloud, to your ability to control and manage your costs."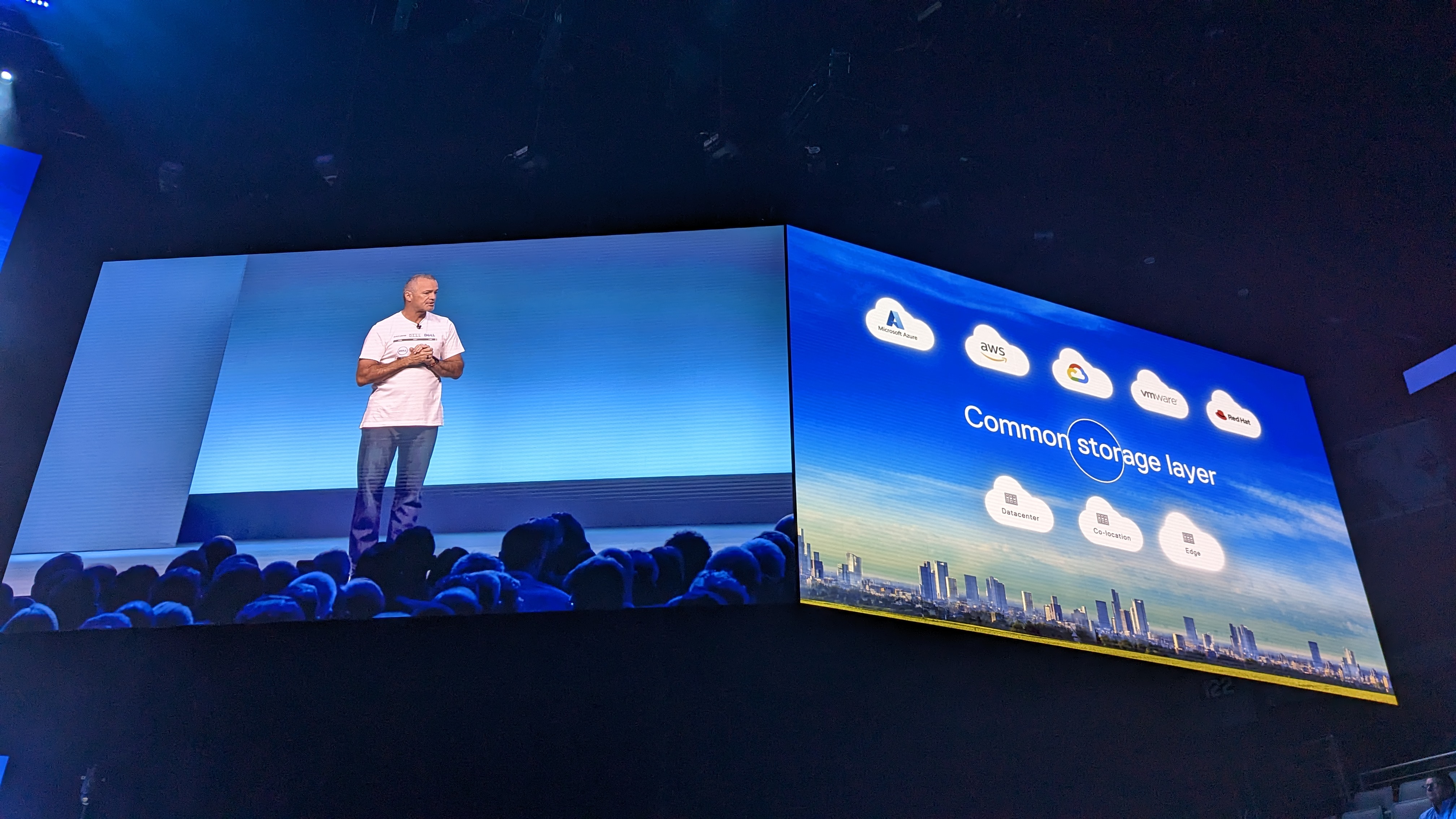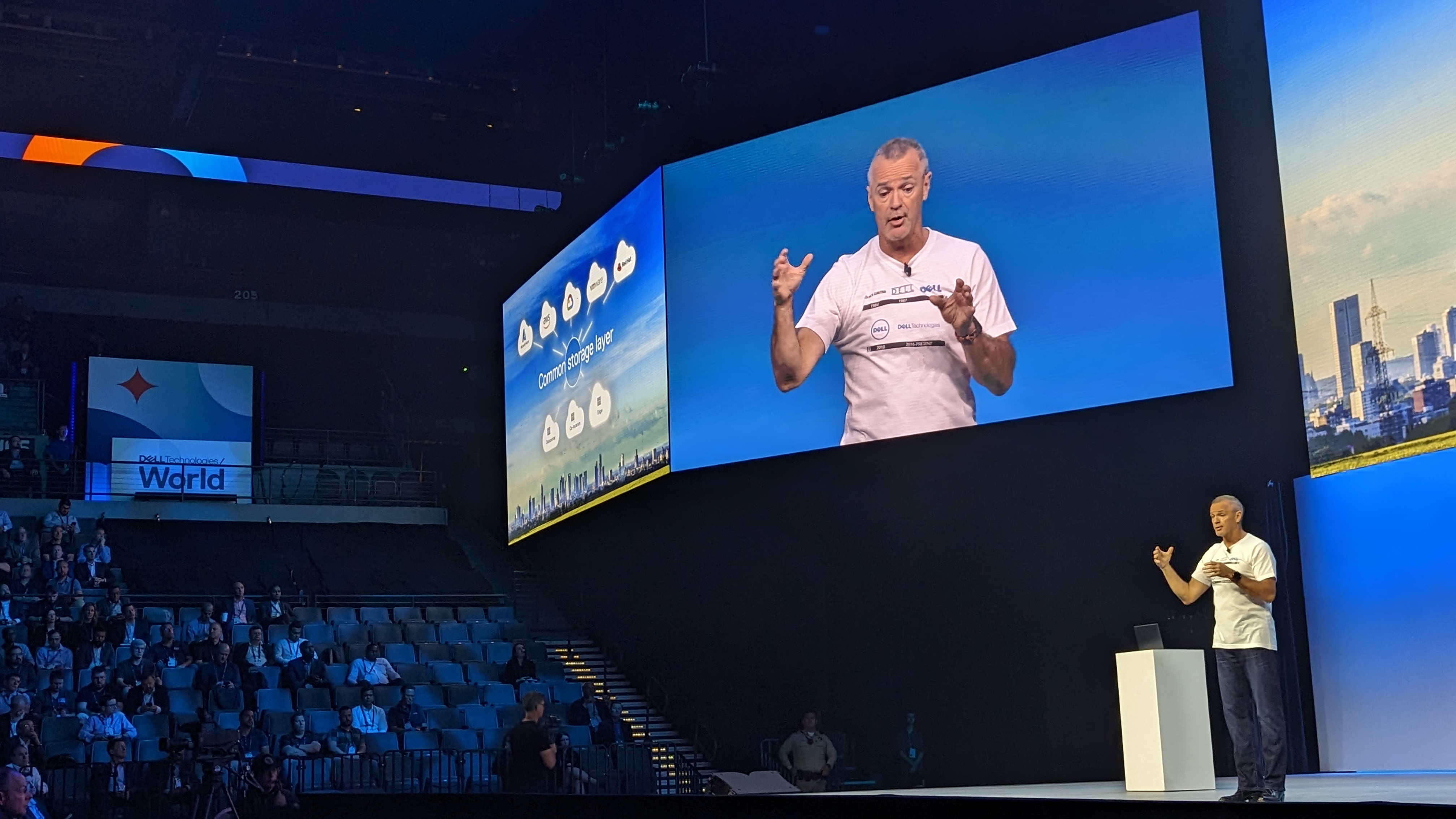 A hard pivot to generative AI now, with Clarke pointing to the hype around this technology.
"You cant be on the stage in this type of audience and not talk about the most talked-about technology in our industry today: generative AI powered by large language models," he declares.
Clarke describes the models as "game changing", and notes that businesses are looking to derive value from them.
2023-05-23T17:16:35.088Z
Now we're being shown a video conversation between Clarke and Nvidia president and CEO Jensen Huang.
"Every company will be able to put AI to use, to revolutionize their products and their company," states Huang.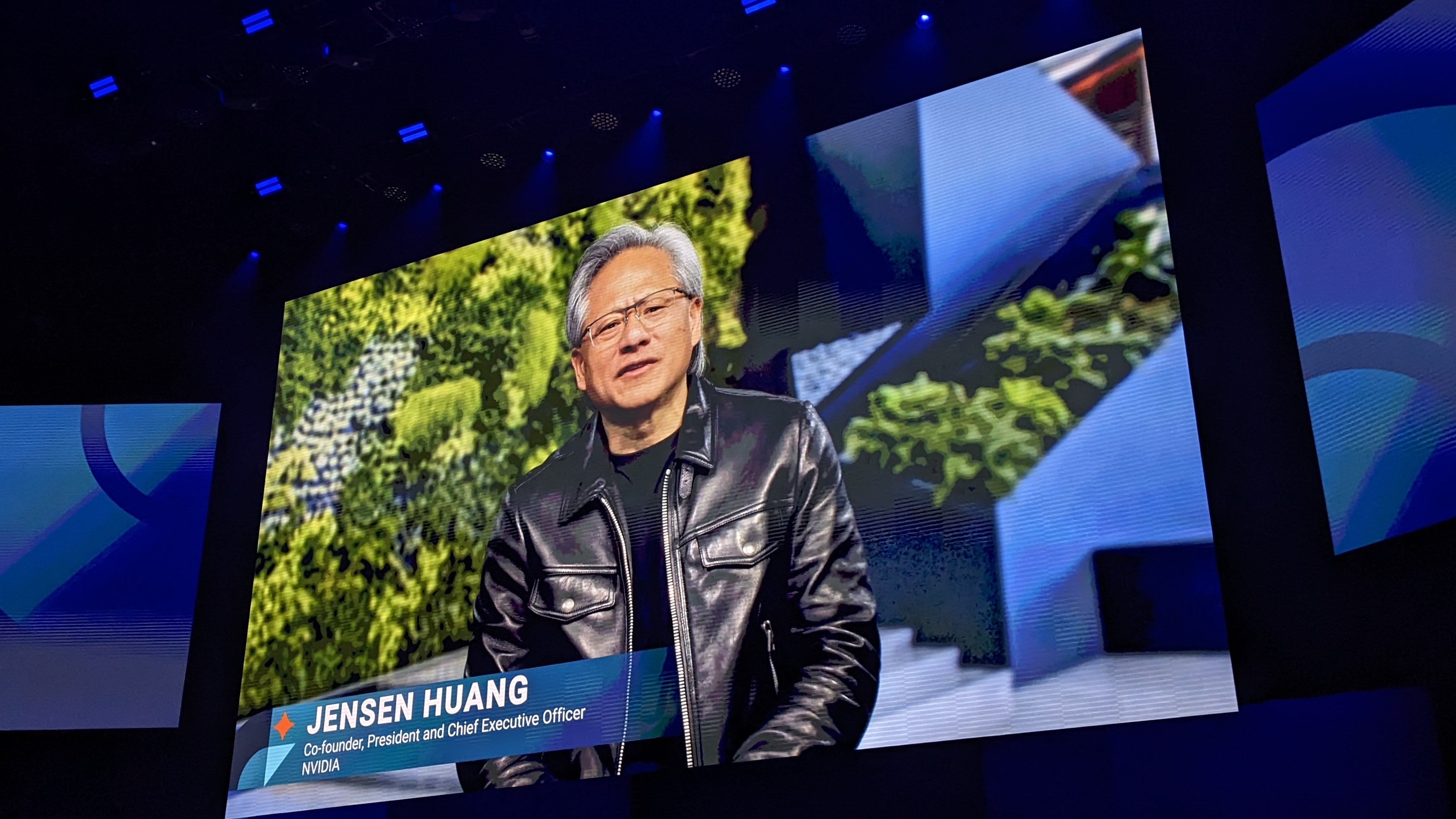 2023-05-23T17:19:15.605Z
The pair are discussing the need for AI to be run at the edge as much as possible.
"You want to be at the edge, because it's the closest thing to the speed of light and you want it to respond instantaneously."
"Couldn't agree more," replies Clarke.
He points out that customers looking to deploy AI will face a new series of challenges around data security and privacy.
2023-05-23T17:21:21.773Z
Clarke and Huang have segued a conversation around Dell and Nvidia's long standing work together into the first proper announcement of the day: Project Helix.
"This is a full stack solution that enables enterprises to create and run custom AI models built for knowledge on their business," says Clarke.
2023-05-23T17:26:47.267Z
At the core of Helix is hardware such as Dell's XE9680, which makes use of eight Nvidia H100 GPUs.
We've now welcomed Kari Briski, vice president of product management for AI at Nvidia to demonstrate how connecting AI to an existing knowledge base can produce better results.
The pair are showing off an example in which a large language model (LLM) can give more detailed golf club recommendations when it is plugged into data rather than used as pre-trained models out of the box.
2023-05-23T17:28:31.945Z
Clarke has been given a golf club, which has been lowered from the ceiling on wires. What's Vegas good for, if not theatrics?
"What we tried to demonstrate here is that adding your data and business contacts makes generative AI a powerful tool for your organization," explains Clarke.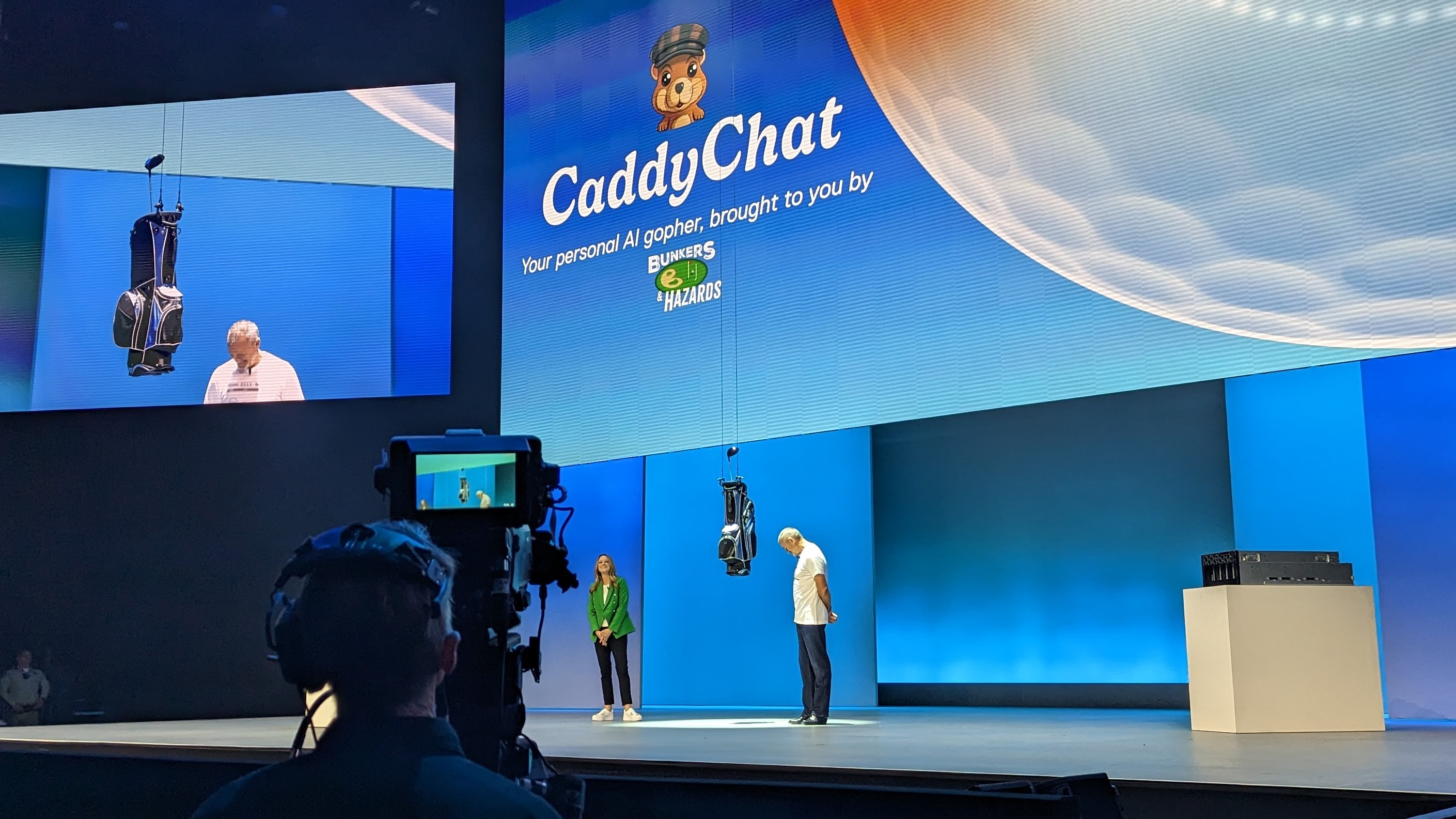 2023-05-23T17:32:22.962Z
Another announcement now: Dell NativeEdge. This is a new software platform designed to let businesses streamline and simplify edge operations across their estate.
"It enables centralized deployment and lifecycle management in a zero trust manner, with a zero trust infrastructure," Clarke announces.
"NativeEdge is multi-cloud by design, enabling you to deploy your applications in new and existing environments."
2023-05-23T17:35:35.635Z
For more detail on NativeEdge, Dell SVP edge portfolio and solutions, infrastructure solutions group Gil Shneorson has taken to the stage.
Working off the example of retail, Shneorson says that NativeEdge will deliver a "consistent experience, from the cow to the factory".
"From a ship connected by Starlink," he continues, "to the distribution center."
2023-05-23T17:40:03.788Z
Clarke summarizes a lengthy example given by Shneorson involving a retail enterprise using edge devices and NativeEdge to reduce spoilage and cost across its operations.
"A single IT administrator can manage a fleet of devices, in multiple locations, leverage blueprints to handle all this hardware, and more importantly these edge native applications remotely?"
Gil confirms this, and notes that the same steps can be applied to energy and other critical areas.
He ends with a shout-out to all the team members in the audience, in an off-script moment. More applause from the crowd, in what's proving to be a lively keynote.
2023-05-23T17:42:54.107Z
We're onto zero trust now and Herb Kelsey, industry CTO – government at Dell takes to the stage after a montage is shown in which he drives a large blue truck bearing the Dell logo to Mandalay Bay.
Clarke calls Kelsey "chief smart guy", and explains that he has spent 30 years working on information systems at the highest security levels.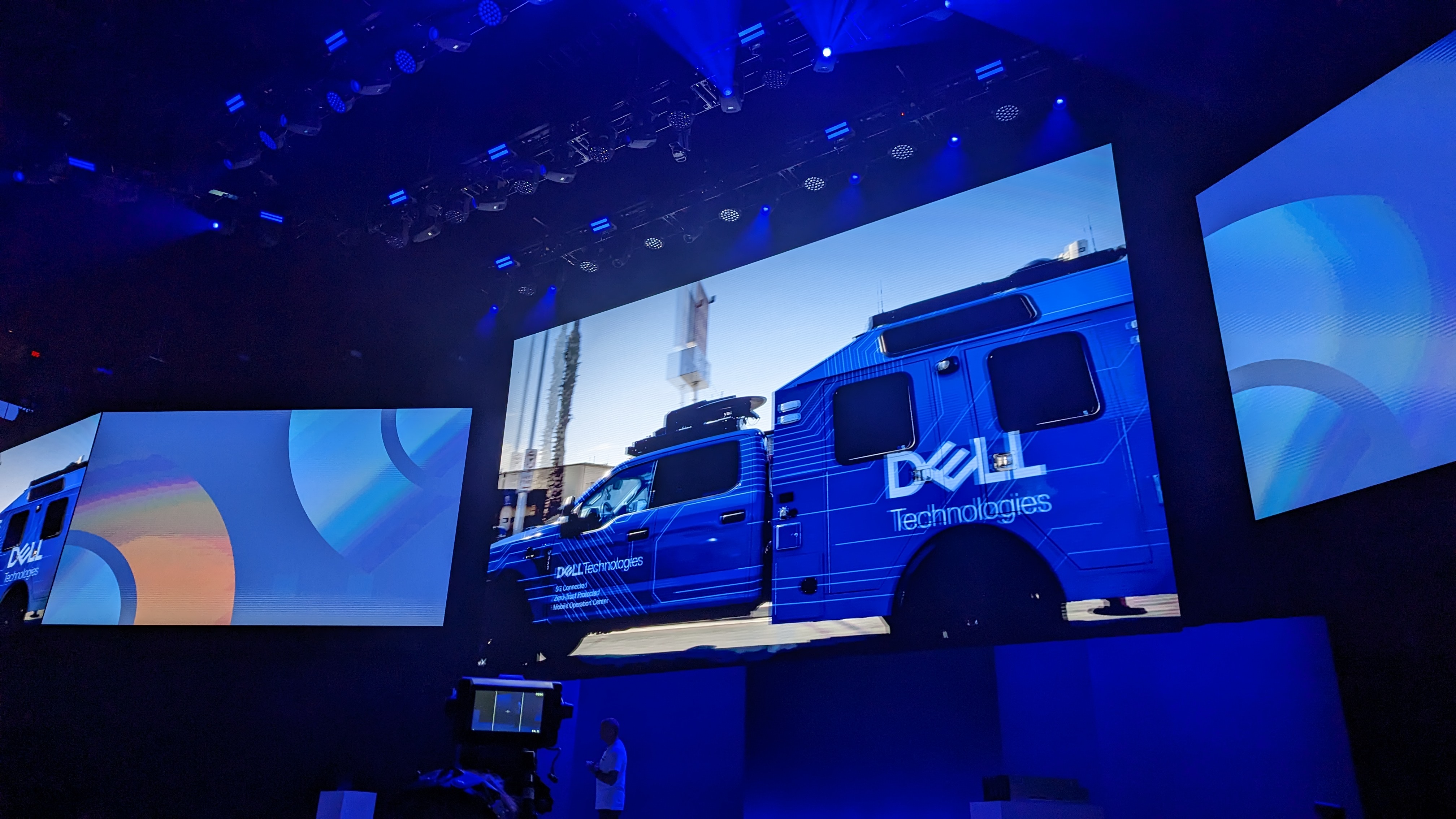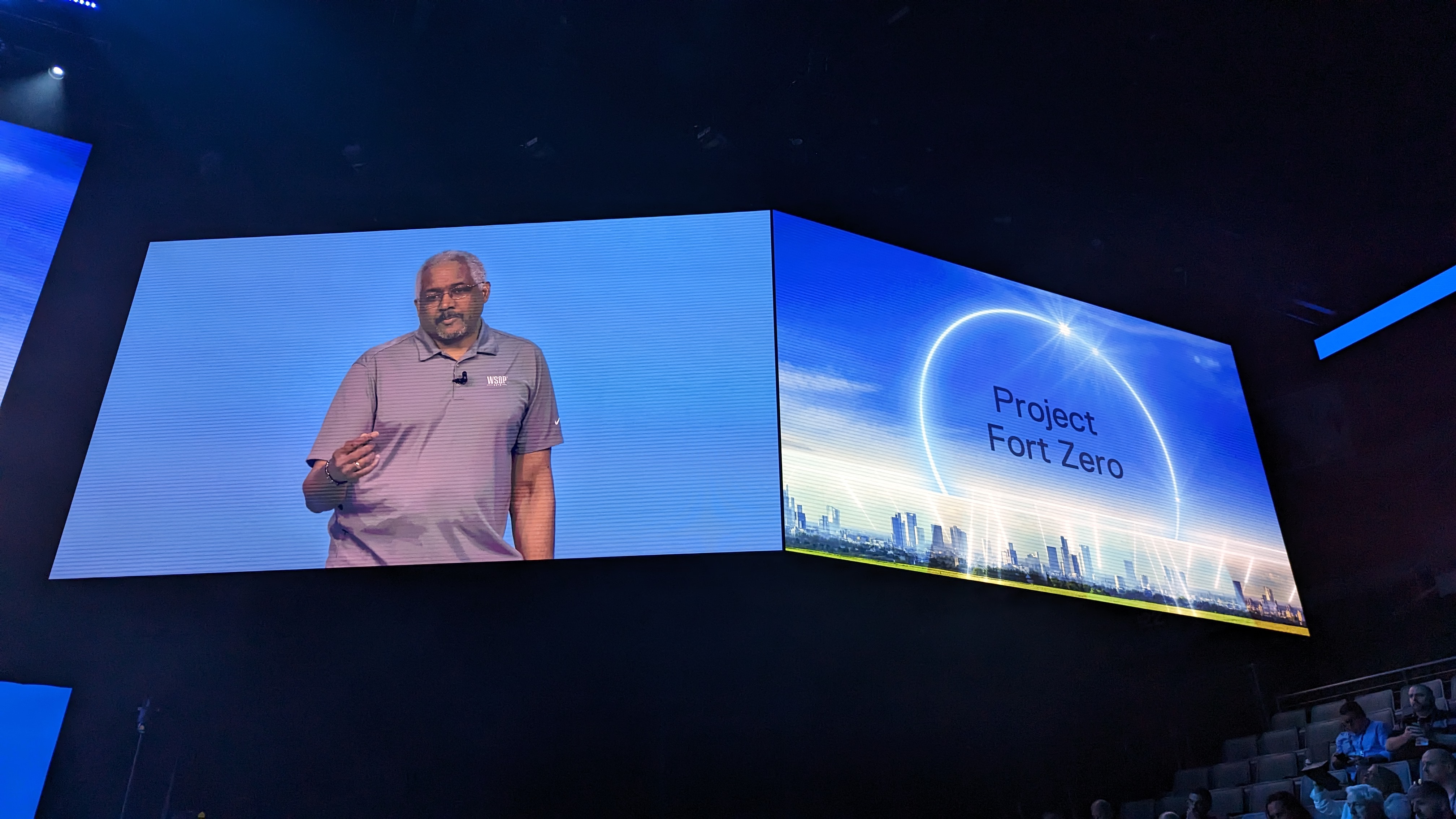 2023-05-23T17:46:32.743Z
Another announcement now, as Kelsey reveals a new end-to-end zero trust system known as 'Project Fort Zero'. This will protect businesses from cyber attacks by making zero-trust adoption easier.
This is an "industry initiative with more than 30 partners," Kelsey explains.
We're told that Dell is committed to undergoing NSA and DoD tests to receive an stamp of approval. This is part of a multi-year security expansion by Dell, to expand internal protection in addition to the focus on edge security.
2023-05-23T17:49:00.050Z
More ChatDTW jokes now – perhaps one too many.
Jen Felch, chief digital officer and CIO at Dell has joined us to continue the AI joke and then relieve Jeff of his presenting duties. She was introduced with the promise of more demonstrations of today's announcements, so stay tuned.
2023-05-23T17:52:51.360Z
Felch outlines six factors that Dell always considers when evaluating workloads:
Is it in a steady state?
What are the workload dependencies?
Do we have data residency requirements?
Is it real-time?
What are the cost differences?
What is the environmental impact?
Felch reveals that since the launch of Dell's internal cloud portal last year, developers at the firm now spend 70-75% of time on technical tasks.
2023-05-23T17:58:33.232Z
Expanding on this, Felch has given an overview of Dell's Managed Developer Cloud. This launched two weeks ago, and Dell is hoping it can help developers to cut out the non-technical fluff in their workload.
Dell is also looking to include more generative AI to areas such as its low-code platform Pipeline Builder.
"We don't have to worry about unit testing when we get it automatically from AI, it's great for helping us to find defects and offering suggestions on fixes."
Felch also reveals that LLMs by companies such as OpenAI are being made more widely available through Dell's Digital Cloud Portal. The firm is focused on using AI on-premises wherever possible.
"We find it really important to be able to centralize our cloud strategies, so that we can monitor and govern these cases across the company," says Felch.
2023-05-23T18:01:00.906Z
Magi Kapoor, director of multi-cloud project management at Dell, is now running us through some of the main advantages of the Apex announcements made at the conference so far.
"It works together to help application scale rapidly to new regions while maintaining agility and flexibility between all clouds," promises Kapoor, to enthusiastic response from Felch.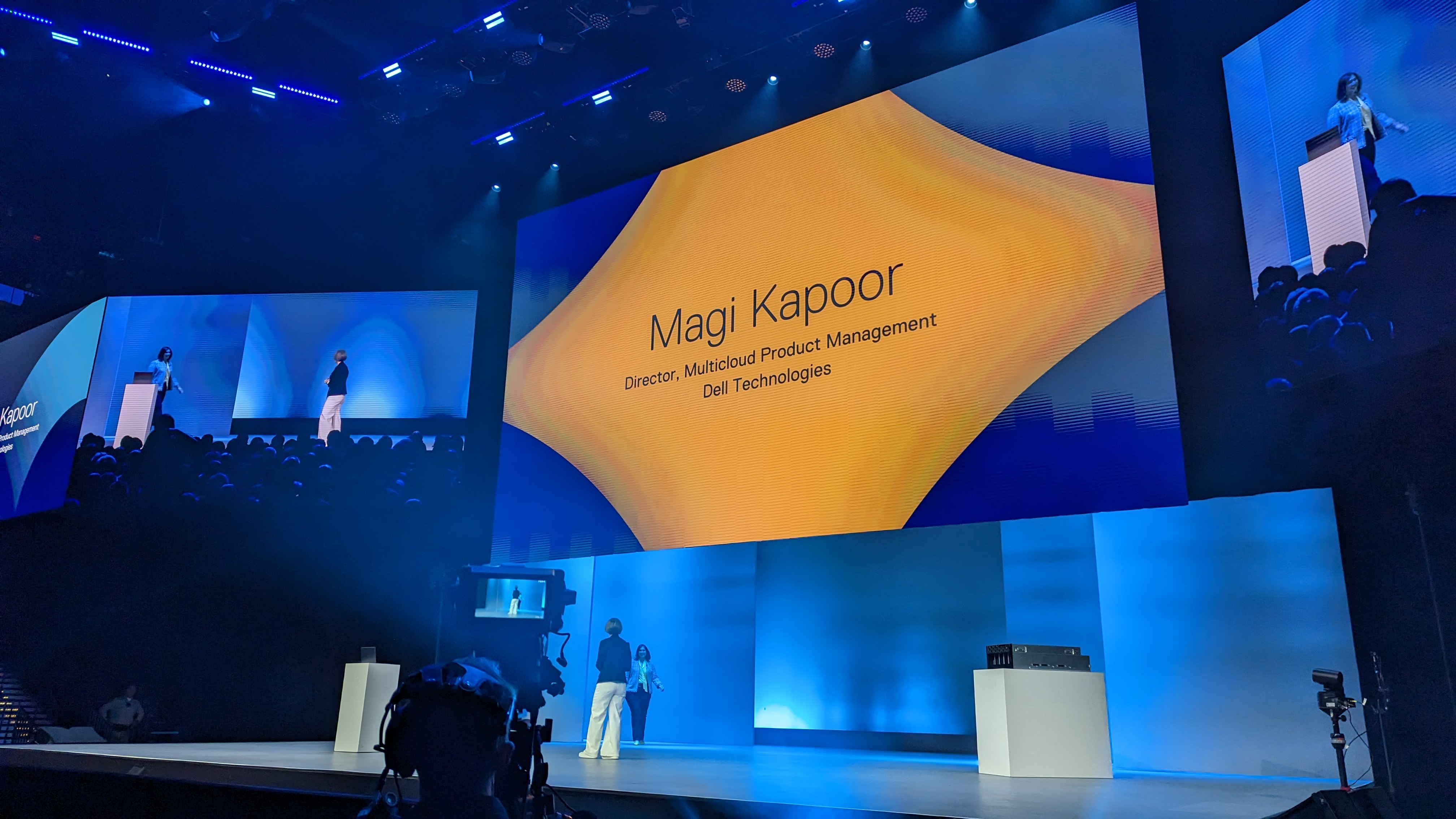 2023-05-23T18:09:07.849Z
Kapoor runs the audience through an overview of the ground-to-cloud advantages of Apex, and also stresses how the announcements around Azure, AWS, Red Hat OpenShift, and VMware offer customers real flexibility.
Now some more on AI with Apex, with a focus on bare-metal support for AI models.
"Placing AI models in public clouds may not be an option for some of the workloads," notes Kapoor.
"So Dell Apex Compute provides high-performance bare metal nodes delivered to data centers, that combined with other services can support all operating systems and all container orchestrators."
"You can choose the number of GPUs, the node type, and then select which performance tier you need."
2023-05-23T18:12:30.125Z
Jeff Clarke is back on stage to end today's keynote. He says that he hopes the audience will walk away with "an impression that we continue to demonstrate turning these visions into real products, and offers on the marketplace."
"Last and most importantly, we're addressing your needs by making it real, and helping you operate in this multi-cloud environment," he adds.
2023-05-23T18:19:48.811Z
And with that, it's the end of today's keynote. To summarize, the announcements this morning have included:
Project Helix, a generative AI collaboration between Dell and Nvidia, which will seek to help businesses train and deploy AI models on-premises.
Dell NativeEdge software platform, through which enterprises can automate and secure edge operations with a zero trust infrastructure and zero-touch deployment.
Project Fort Zero, which seeks to deliver a government-certified, end-to-end zero trust solution to protect organizations from cyber attacks.
We'll continue to provide coverage of the biggest Dell Technologies World 2023 announcements, as well as in-depth articles and interviews, so keep an eye on the site for all that to come.
See the original article here: ITPro