Refresh
2023-08-29T10:40:24.201Z
2023-08-29T15:55:50.811Z
Welcome to our live coverage of Google Cloud Next 2023. Today's opening keynote will include an update from Google Cloud chief exec, Thomas Kurian, on all the latest product and feature announcements across the Google Cloud ecosystem.
Generative AI is, as one might imagine, expected to feature heavily at this year's conference, so stay tuned for all the latest announcements from 9:00 PDT onward.
While we're waiting for the morning keynote session to begin, why not check out some of ITPro's coverage of Google's pre-conference product announcements today?
2023-08-29T15:56:47.555Z
A raft of new Duet AI features for Workspace were unveiled today, including automated call transcription, real-time video snippet tools, and the ability to 'skip' meetings and get a recap from Duet.
2023-08-29T16:11:42.768Z
First up this morning is Google chief exec Sundar Pichai.
Pichai says Google has been preparing for AI for seven years. It's "AI-first" approach is a source of great excitement at the tech giant – and there's more to come.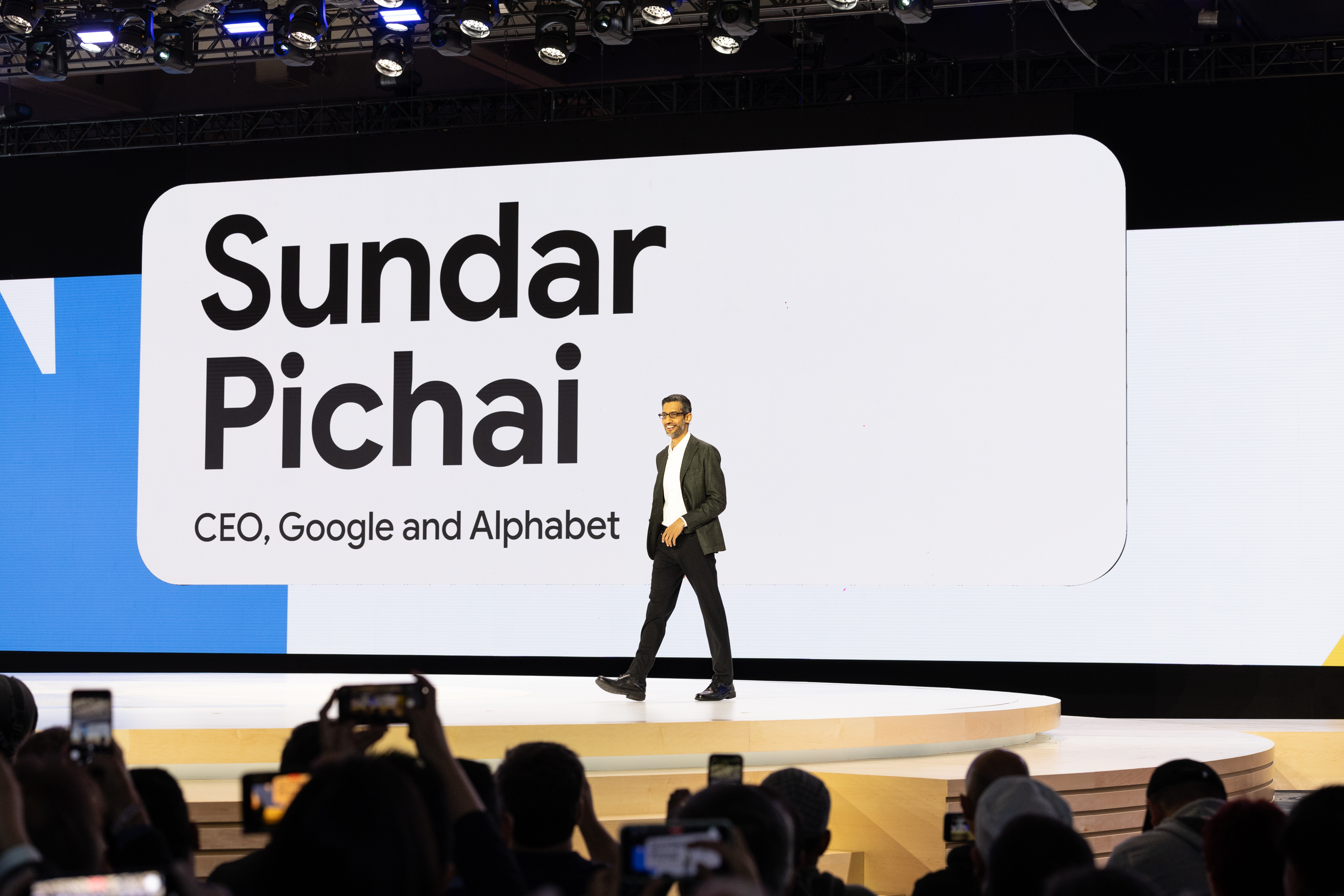 2023-08-29T16:13:28.279Z
"For the last seven years we have taken an AI-first approach, applying AI to make our products radically more helpful. We believe making AI helpful for everyone is the most important way we'll deliver on our mission over the next decade."
2023-08-29T16:15:37.939Z
Pichai officially announces the general availability of Duet AI in Workspace – you can read more about these changes here.
2023-08-29T16:17:27.402Z
Pichai announces the expansion of early access to Duet AI for Google Cloud. A raft of new tools and features for developers, not least of all natural language prompts for code refactoring for legacy applications.
2023-08-29T16:19:24.083Z
Next up is Google Cloud CEO Thomas Kurian. This is an exciting time for Google Cloud, with generative AI marking a step change in how developers and organizations work.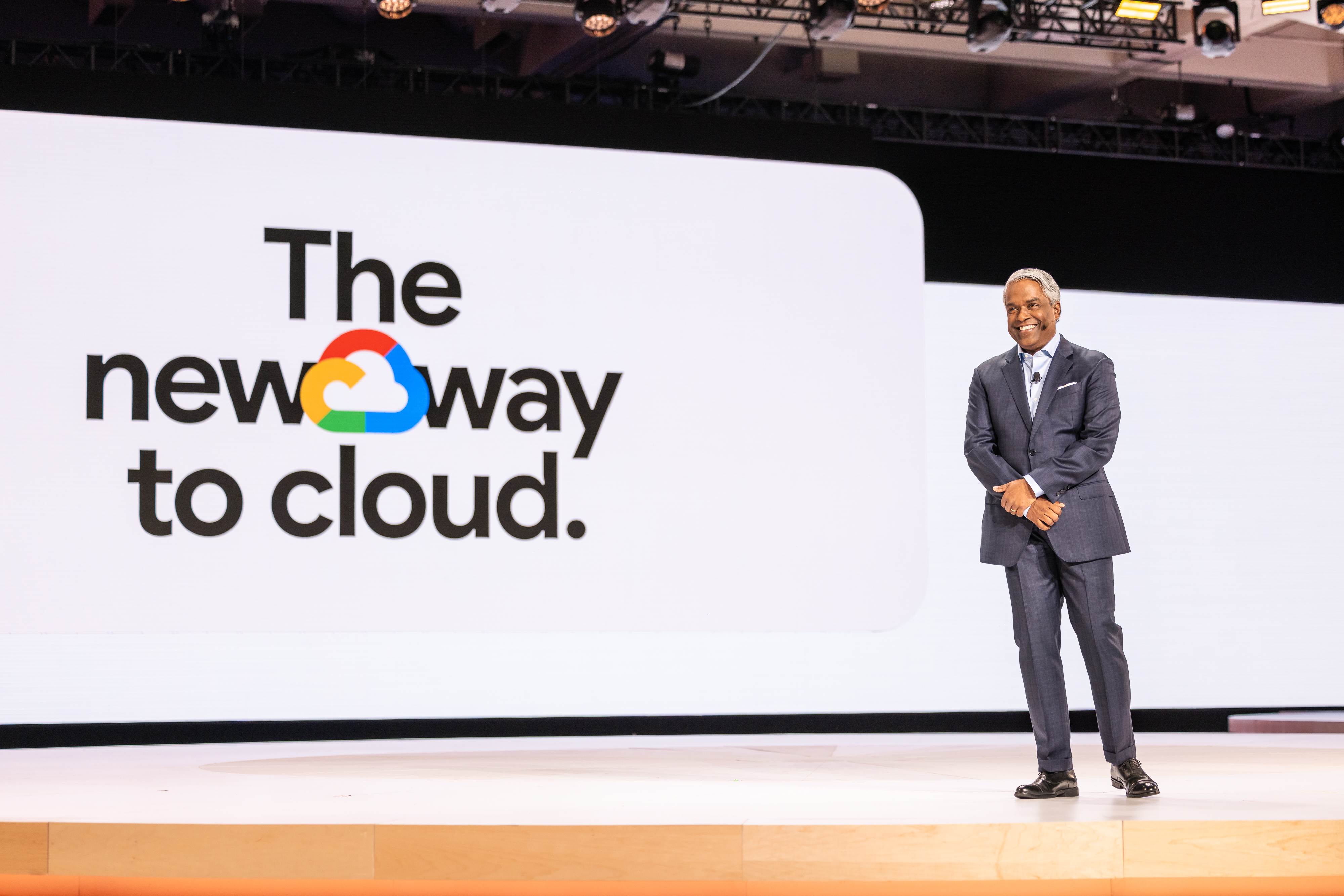 2023-08-29T16:26:30.028Z
Some big announcements here so far from Kurian. Here's what we're looking at:
General availability of A3 virtual machines from next month. A3 VMs will be powered by Nvidia H100 GPUs and are purpose-built to train and serve "demanding" generative AI workloads and large language models.
The launch of the Cloud TPU v5e, described as the "most cost-efficient and accessible cloud TPU to date".
2023-08-29T16:28:19.740Z
Google Cloud is expanding its partnership with Nvidia, according to Kurian. Nvidia CEO Jensen Huang has joined the stage with Kurian.
"Generative AI is revolutionizing every layer of the computing stack. Our two companies with two of the most talented computing science teams in the world to re-invent cloud infrastructure for generative AI," Huang says.
"We're starting at every layer. This is a reimagining of the entire stack."
2023-08-29T16:29:38.459Z
"We're going to put Nvidia DGX Cloud in GCP," Huang reveals.
"DGX Cloud is Nvidia's AI supercomputer. This is where we do our AI research, this is where we optimize our incredible software stacks.
2023-08-29T16:31:00.349Z
"Generative AI and doing frontier work in this area, is breakthrough, cutting edge computing science. This is a whole new way of doing computing. We're working together [with Google] we're working to re-engineer and re-optimize the software stack."
2023-08-29T16:31:53.189Z
"Our teams are now starting to build the next-gen processors and infrastructure. Google and ourselves are going to work on the next instances of our next generate AI supercomputer called DGX 'Grace Hopper'," Huang says.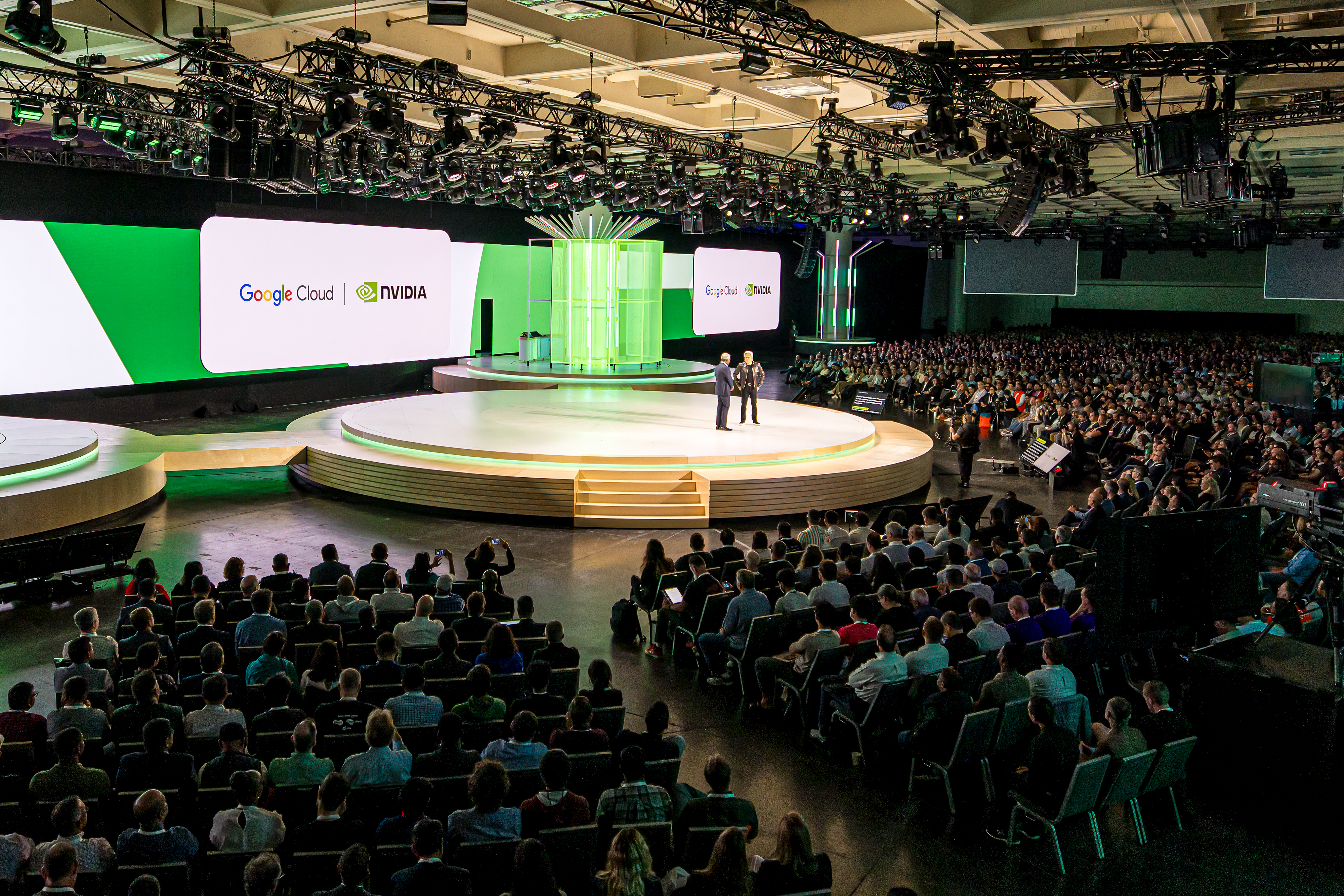 Some Vertex AI-related announcements coming up now from Kurian. Vertex is seeing "very rapid growth" in customers and usage, he says.
2023-08-29T16:36:57.545Z
Vodafone, Estee Lauder, GM, and IHOP are among some of the brands currently innovating with Vertex AI.
2023-08-29T16:38:08.580Z
Codey, Vertex AI's coding assistant, delivers up to 25% quality improvement for code generation in code chat, Kurian says. Significant benefits for developers.
2023-08-29T16:39:07.677Z
New models, such as Meta's Llama2, Code Llama, and Anthropic's Claude 2 are all being added to the Vertex model garden, Kurian says.
2023-08-29T16:41:17.734Z
Privacy concerns are, naturally, the next topic here for Kurian. There's nothing to fear, though.
"When you train and fine-tune your models with Vertex AI with private documents, or data from your SaaS applications or proprietary database, you're not exposing that data to the general foundation models or to Google's consumer service," he says.
"You are working with a snapshot of the model, allowing you to train it in a private configuration."
2023-08-29T16:44:21.342Z
Nenshad Bardoliwalla, director of product management for Vertex AI has boogied his way onto the stage now to give us a run through of some of the AI models available through Vertex AI.
2023-08-29T16:45:38.957Z
"We made a promise that we were going to add third-party models, open source models with our first-party models," he says. "The full capabilities of Vertex are available with Llama 2."
"When you use, Vertex, there's no drama with this Llama."
2023-08-29T16:46:12.281Z
"Just a few days ago, Meta released the new Code Llama models. I'm pleased to tell you that if you go into the Vertex model garden, Code Llama is now available for all our partners.
2023-08-29T16:50:00.661Z
Thomas Kurian is back on the stage to announce that Google will expand general availability of Vertex AI Search.
"Vertex AI Search is modern enterprise search that retrieves information and synthesizes it from your document repositories, databases, SaaS applications, website, and entire intranet."
2023-08-29T16:51:09.717Z
This is essentially Google Search for "all your enterprise data".
"It's multi-modal, you can search in text and images, it's multi-turn, allowing you to refine search results."
2023-08-29T16:54:36.103Z
Nenshad Bardoliwalla is back now with another glimpse into Vertex AI Search.
He's building a Search application through Vertex. This appears very streamlined and convenient for customers. The entire process is done and dusted in no time.
2023-08-29T16:59:14.614Z
We're onto Duet AI announcements now, and Kurian certainly appears bullish on this front.
"Google Search simplified the complexity of the internet for every user behind a simple search box. In the same way, Duet Ai simplifies the sophistication of generative AI models behind an integrated chat experience.
"Duet AI in Workspace gives everyone a writing helper, a spreadsheet expert, a project manager, a note taker for meetings, and a creative visual designer."
2023-08-29T17:00:03.561Z
Aparna Pappu VP & GM for Google Workspace is on the stage now to give us a glimpse into some of the exciting new Duet AI features for Workspace.
2023-08-29T17:00:45.547Z
"Workspace has been bringing the magic of AI to our users for almost a decade. That history and experience enabled us to bring the power of Google's latest large language models to all our products in record time," she says.
2023-08-29T17:01:24.123Z
"Thousands of companies" and over one million people are already using Duet AI in Workspace, Pappu reveals.
2023-08-29T17:02:43.809Z
There have been over 300 new feature launches for Workspace in the last 12-months alone, Pappu says.
These product investments appear to be paying off, she adds. Workspace now has over 10 million paying customers. Serious numbers here.
2023-08-29T17:04:12.922Z
Google wants to go from a "prompt-base interaction" with Duet to a more "much richer, contextual interaction".
The tool takes into account what you're working on – that could be an email, documents, spreadsheets, for example. It will generate summaries and offers creative ideas for users.
"And soon, even taking action on behalf," Pappu says.
2023-08-29T17:05:11.884Z
I'm sure we can all agree that if Duet takes the edge off organizing spreadsheets, we'd all be much happier.
2023-08-29T17:08:10.883Z
Duet AI can give you a helping hand in meeting presentations, Pappu says.
Google Meet will now include a real-time teleprompter. This follows the users' voice as they read their notes. The speech recognition system keeps up with the user even if they get ahead of themselves or say things on the fly.
2023-08-29T17:08:55.493Z
Duet AI note-taking capabilities will also take the edge off meetings. Meeting summaries, recaps, and video snippets for key talking points.
2023-08-29T17:09:47.004Z
Duet can also attend meetings on your behalf, take notes, and give you an insightful recap of the call. No more video calls? Count us all in, Google.
2023-08-29T17:10:45.817Z
Brad Calder, VP & GM Google Cloud Platform and Technical Infrastructure at Google Cloud is our next speaker in the keynote session this morning. He's going to give us a run down of the new Duet AI features rolling out across Google Cloud.
2023-08-29T17:11:44.434Z
"Duet AI can serve as your expert advisor for Google Cloud. Today we're excited to expand our Duet AI in Google Cloud preview with new capabilities and general availability later this year," he says.
2023-08-29T17:12:55.526Z
"Duet provides AI assistance for deploying your applications with standard capabilities like code generation. But Duet goes further with an expert assistant across your entire software development lifecycle."
2023-08-29T17:15:03.013Z
The productivity boosts unlocked through Duet AI are quite remarkable, Calder says.
"Duet can perform the tasks you can expect from a traditional code assistant. But the model powering Duet is not a generic model, it provides context aware assistance."
Duet offers code generation, code citation, can design and publish APIs, can help secure applications and migrate and modernize applications.
2023-08-29T17:19:12.020Z
Priyanka Vergadia, staff developer advocate at Google Cloud is showing us how to refactor legacy code with Duet AI.
It's remarkably efficient, refactoring C++ to Go in a matter of seconds.
2023-08-29T17:19:50.796Z
Legacy code refactoring is traditionally a time-consuming, costly process. Duet has nailed it without breaking a sweat.
New Duet AI features for BigQuery are a source of great excitement, Calder says.
2023-08-29T17:25:30.804Z
BigQuery is getting a big boost through Vertex AI. Models are coming to BigQuery to "make is fast and easy to use GenAI with your data," Calder says.
2023-08-29T17:27:45.647Z
Duet AI is now being rolled out to Google's database migration service. This will drastically streamline a traditionally cumbersome process, Calder says.
2023-08-29T17:28:37.785Z
Thomas Kurian is back on the stage now. Next up we'll be hearing about the latest Google security announcements.
2023-08-29T17:29:23.995Z
Mandiant CEO Kevin Mandia will be steering us through a raft of generative AI security announcements.
"Today, we are launching Mandiant Hunt for Chronicle. Security teams can now get threat hunting on their Chronicle data, using frontline intelligence to expose attacker activity before it negatively affects your organizations."
2023-08-29T17:32:58.804Z
Mandia says this is the equivalent of adding "thousands of security experts to your team overnight".
2023-08-29T17:35:44.723Z
Mandia says Google's secure-by-design cloud platform represents a strong foundation for firms to base their security operations on.
"Google Cloud had 75% fewer critical and high severity vulnerabilities since 2020 than one of the major cloud providers, and 60% fewer vulnerabilities than the other major cloud provider," Mandia says.
2023-08-29T17:36:17.289Z
Ai is going to "change the game" for security. And Duet AI is going to lead this charge, Mandia says.
2023-08-29T17:37:47.538Z
Duet AI helps support and enhance security in three distinct ways.
1. "By generating AI summaries to describe threats."
2. "By searching for patterns in your security data to determine if you've been affected."
3. "By recommending actions to take, both in response to alerts, but by proactively improving security by shutting down attack paths."
2023-08-29T17:38:52.331Z
Duet AI offers in-depth, human-readable threat summaries and gives security practitioners actionable insights on how they can mitigate current threats and prevent future risks.
2023-08-29T17:42:03.074Z
Thomas Kurian is back on the stage now to round things off in today's keynote session.
2023-08-29T17:44:15.378Z
Google Cloud is continually expanding its partner ecosystem, Kurian says. It certainly is an exciting time for the organization, and much of this is being driven by advances in generative AI and the appetite among global businesses.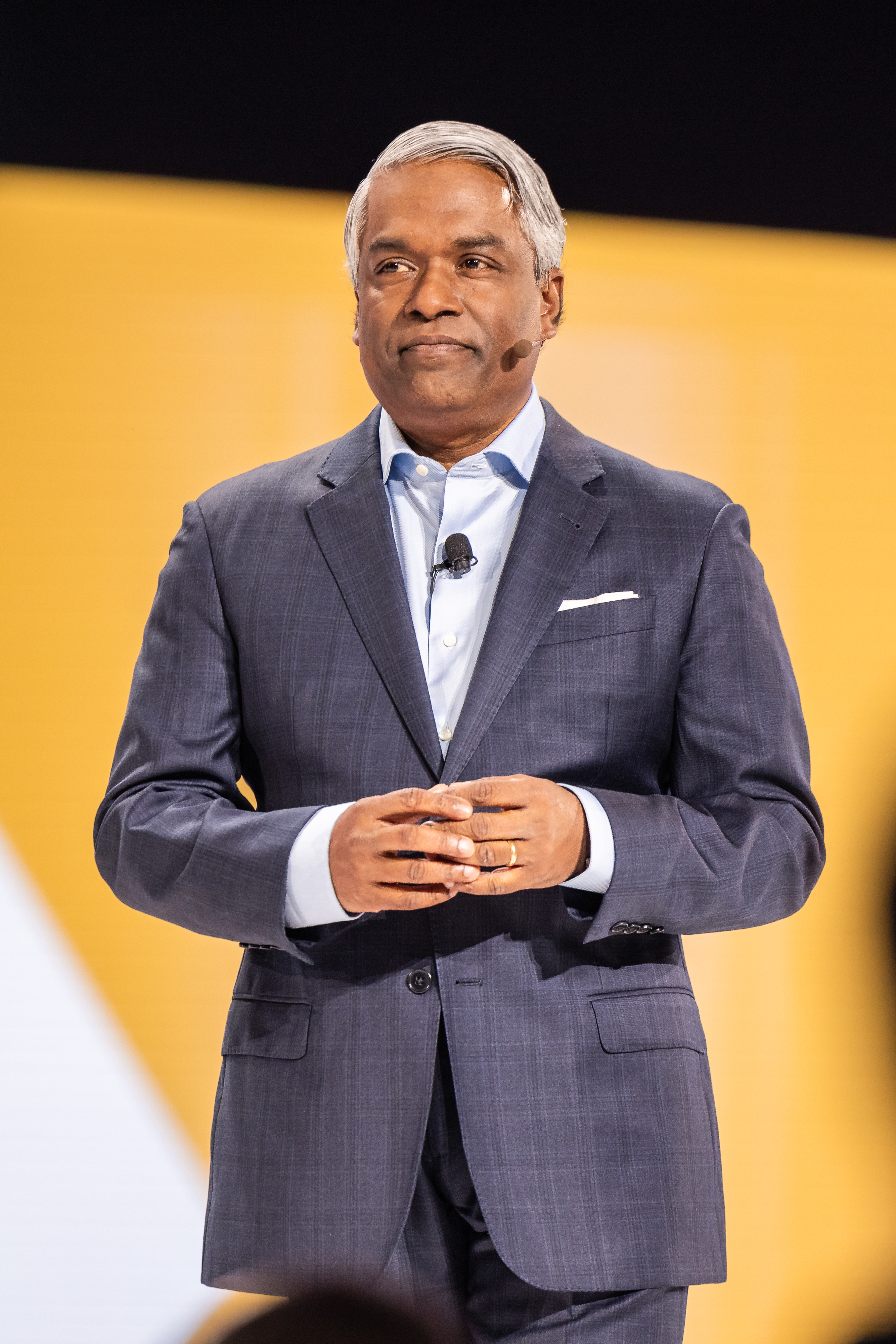 2023-08-29T17:46:47.409Z
"We're grateful for the thousands of partners who are investing to develop solutions with Google Cloud. We showed today the three most important ingredients that will power this next chapter digital transformation:
1. Our world-class platform and infrastructure for building AI.
2. Our always-on collaborator, Duet AI, to help use AI in both Workspace and Cloud.
3. Our investment in your success across all industries and business functions, together with our broad partner ecosystem."
2023-08-29T17:47:26.976Z
Kurian says that Google's partner ecosystem is "building a new path to cloud".
A strong finish from the chief exec there and an optimistic outlook for the months ahead.
2023-08-29T17:49:44.801Z
And with that, the keynote session at Google Cloud Next comes to a close. A whirlwind of announcements and some exciting developments so far – and it's only day one.
Thanks for joining us during this live blog, and remember to check out some of our coverage of today's big announcements.
2023-08-30T17:34:27.892Z
Google Cloud kicking things off on day two with a…duet. Musical, that is. A wonderful ballad about the challenges of overcoming legacy tech.
2023-08-30T17:38:03.390Z
We've officially entered 'Legacy Land' in day two.
Forrest Brazeal, head of developer media at Google Cloud is now on stage with Richard Seroter, director of developer relations and product management at the firm.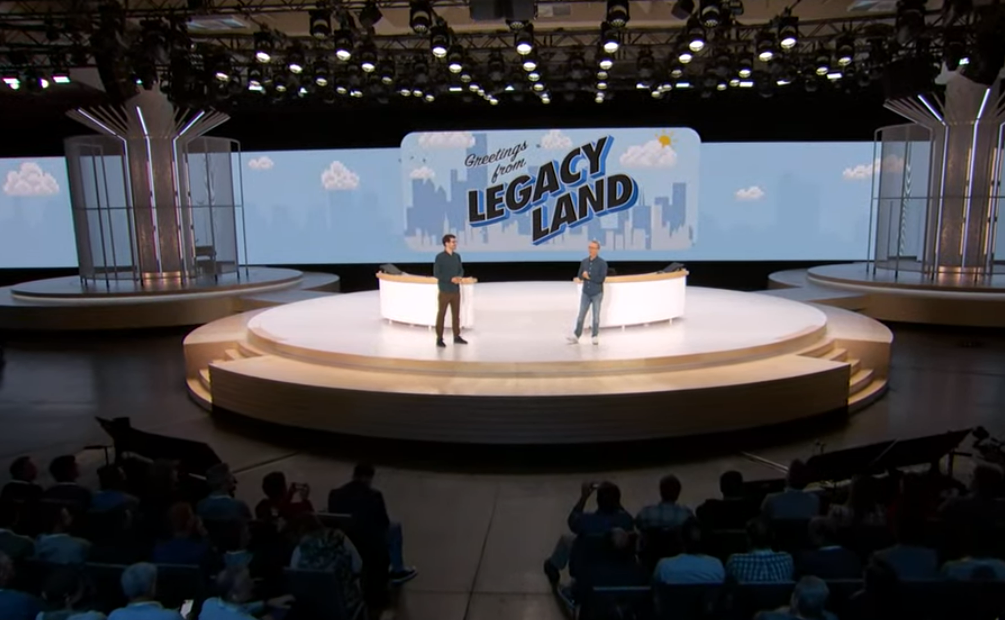 2023-08-30T17:39:15.882Z
The duo are discussing some old school bugs, such as a famous one in Google Translate that essentially turned the translator into a beatbox.
2023-08-30T17:40:57.227Z
We're going to hear about how Google engineers have rebuilt their own legacy infrastructure over the years.
Google Cloud 'Champion innovators' will be on-call to give us a run down of how they're overhauling legacy infrastructure using Google Cloud tools.
2023-08-30T17:44:51.321Z
Alice Keeler, one of Google's champion innovators, is first up this morning to give us a glimpse at using Google Workspace automated tools to drive productivity.
2023-08-30T17:46:03.733Z
Keeler is particularly excited about the capabilities of Duet AI in automating and enhancing user tasks in AppSheet.
2023-08-30T17:48:37.624Z
Keeler is providing a practical, real-time example of how Duet AI can streamline incident reports in AppSheet. It's very intuitive and the natural language prompts are easily digested and applied.
2023-08-30T17:52:08.520Z
Incident reports can be easily integrated from AppSheet to Google Chat for staff to get regular updates. This entire process has taken little more than a couple of minutes.
"We just shipped a web and mobile app, and we mostly used natural language to describe it," says Brazeal. "As a developer this is really getting my wheels turning. How much further can I go before I have to start writing code?"
2023-08-30T17:53:14.916Z
Text-based natural language prompts for Duet AI aren't the only feature, Brazeal says.
Unstructured audio capture is available with Duet AI.
"You don't have to narrate exactly what's in each field. Just tell Duet more or less what you think should be in this report," Brazeal tells Keeler.
2023-08-30T17:54:04.631Z
Again, this is very intuitive. Duet has taken on-board audio instructions from Keeler to automatically issue commands in AppSheet.
2023-08-30T17:56:32.853Z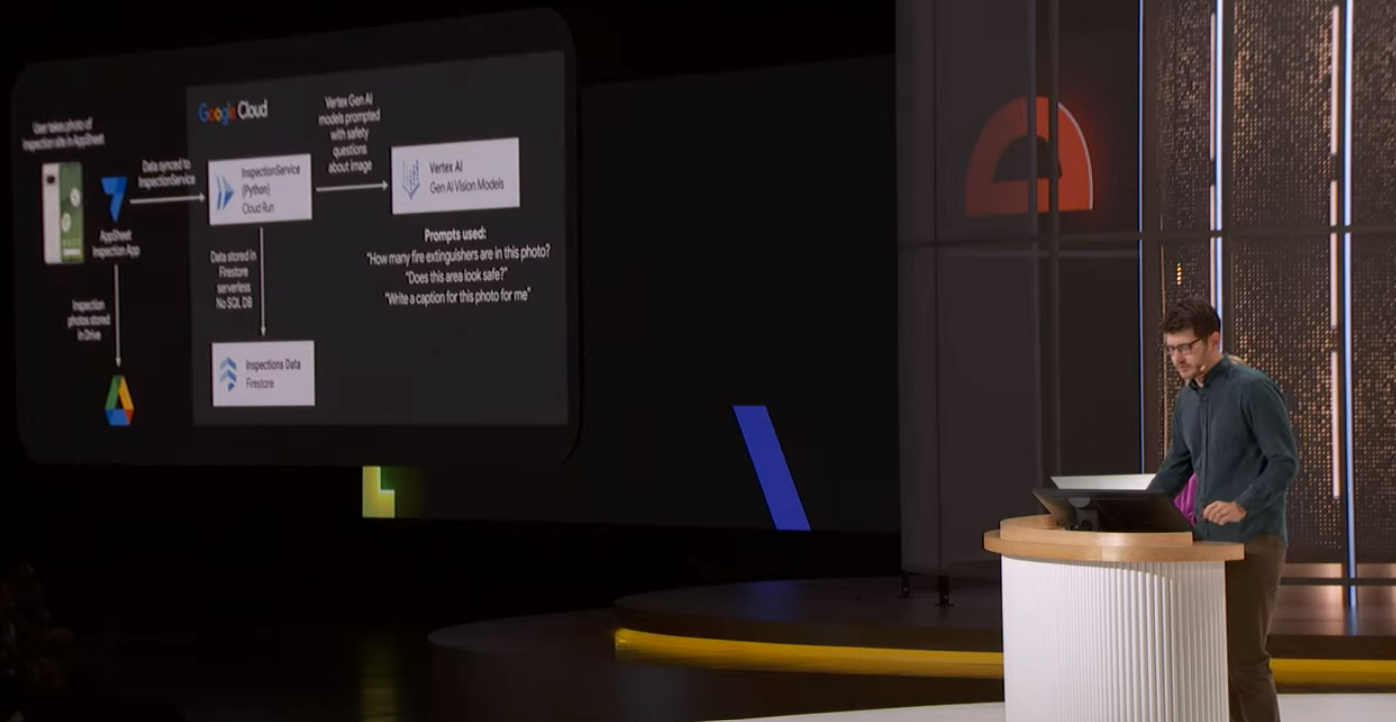 2023-08-30T18:01:14.943Z
A whirlwind round of real-time actions here from Keeler and Brazeal. The power of Duet and Vertex AI showcased perfectly. We've seen automated creation of AppSheet commands and audio-based command prompts.
2023-08-30T18:02:16.841Z
Anna Berenberg, engineering fellow at Google Cloud is up next delving into some of Google's legacy infrastructure changes over the years.
2023-08-30T18:03:08.556Z
"When I joined Google Cloud in 2015 to work on networking products, I noticed that some of engineering teams were having problems with development velocity," she says.
2023-08-30T18:09:00.767Z
"How long does it take to make a small change, such as shipping a simple boolean? How many engineers does it take to plumb a bool through your stack?"
This image here is a real microservice path that the bool in question had to travel from configuration to the time it took effect. It took eight teams, Berenberg says.
An absolute minefield and extremely inefficient.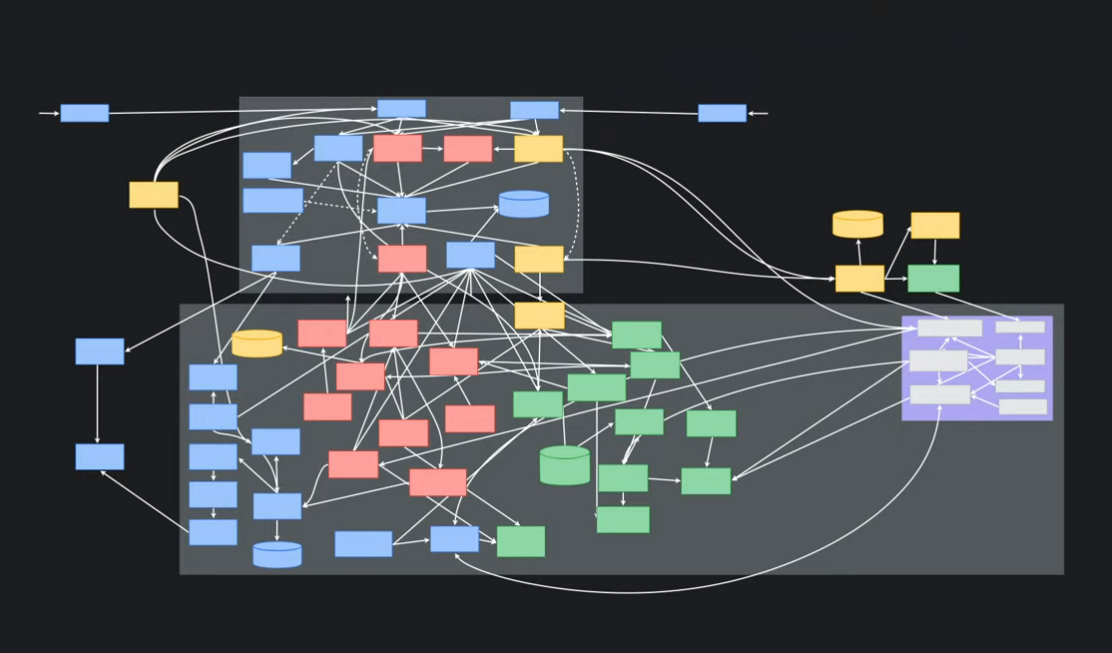 2023-08-30T18:10:22.765Z
"This involved eight teams. An API design team, management, tech writers, and more. All these teams were located in six offices reporting to three VPs. To ship that bool, I had to convince all eight teams to make the feature a priority.
"Just thinking about that makes me tired," Berenberg says.
2023-08-30T18:10:59.174Z
Berenberg said that to ship this particular feature, it would take up to six months, even with the sheer scale of individuals and teams involved in the process. Highly inefficient and a serious drain on resources.
2023-08-30T18:14:04.868Z
So how did they speed this feature development process up?
"The short answer is a combination of vertical and horizontal ownership," she says. "We had to empower each vertical team to deliver a feature without this endless matrix of dependencies. And we had to build extensible but still shared horizontal infrastructure that everybody could use."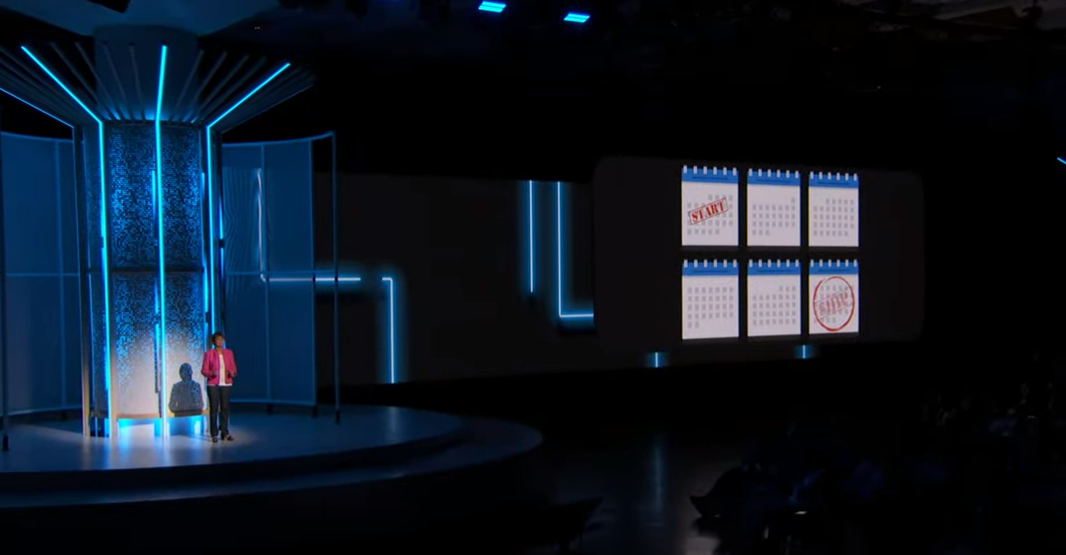 2023-08-30T18:15:48.653Z
This included the use of open source tools and APIs, and doubled down on the re-use of extensible layers. A "one of everything effort", Berenberg says.
"Over the next few years these principles informed the elements of our modern management control and data planes. And while we still have work to do, over time we are moving faster and faster."
2023-08-30T18:17:04.449Z
These principles, Berenberg says, have delivered feature and platform development improvements across the organization in recent years.
The traffic directory team built on this new infrastructure and cut its time from shipping a new API from "months to a few weeks, deployed in all regions and production".
2023-08-30T18:17:53.971Z
"I believe that as a developer, we need to think about how platforms and product architecture enables development and release velocity."
"Our goal is to deliver the best functionality as quickly as possible."
2023-08-30T18:22:17.852Z
Richard Seroter is back on stage now bringing us all back down to earth. While he says there's been a lot of excitement about Duet AI, Vertex, and new product announcements, it's important to note that a lot of enterprises are still relying on "traditional cloud building blocks".
"So far we've seen how far Duet AI in AppSheet can get you if you want to add new workflows to existing systems. But let's be real, a lot the things you might be working on still involve traditional cloud building blocks – you're slinging containers, you're tweaking release pipelines. We want to do this as efficiently as possible."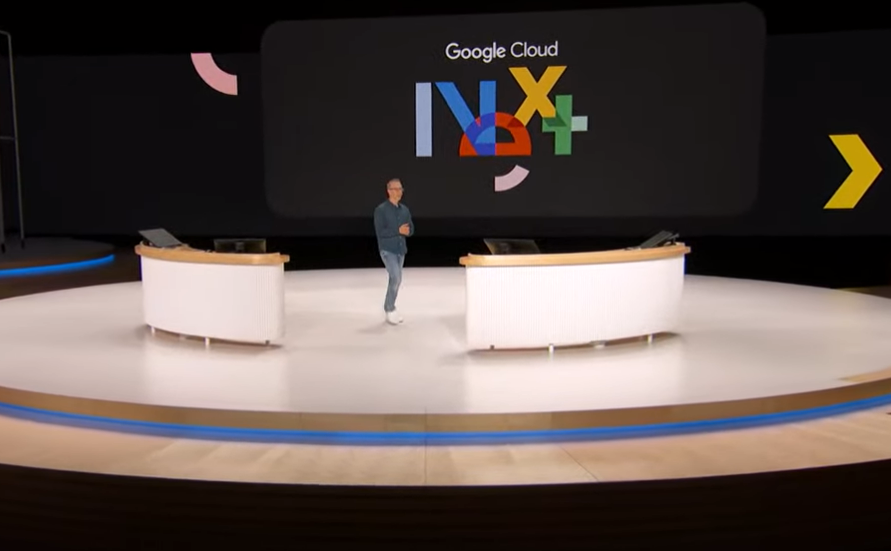 2023-08-30T18:24:59.111Z
Adrienne Walcer, technical program manager at Google Cloud is up next now with another 'legacy lore' incident tale for us. This one, many of you will know.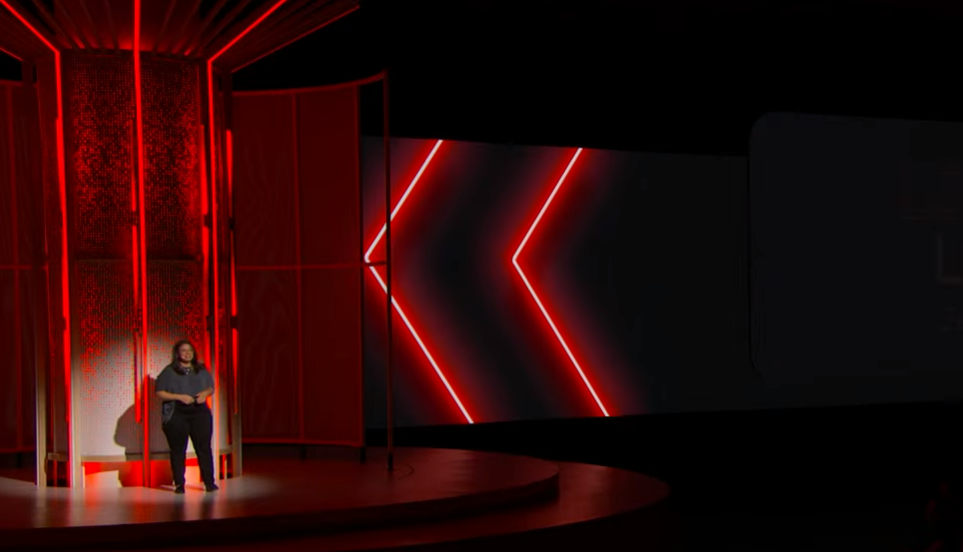 2023-08-30T18:26:55.430Z
Walcer knew "something messy" was going down when she was woken up at 3am several years ago.
"Turns out, there was a zero-day vulnerability in a little open source Java library called Log4J," she says. Teams instantly scrambled to address the issue.
2023-08-30T18:29:00.681Z
The severity of the situation prompted a "race against the clock" to "patch everything" before malicious actors could act on the vulnerability.
2023-08-30T18:30:38.369Z
Security teams responded swiftly, but rolling out a patch wasn't quite as simple as some imagined, Walcer says.
"This is where Google's legacy is kind of a double-edged sword."
Google's expansive infrastructure meant that its systems "do not have consistent back-ends", Walcer adds.
"So how do you determine who's calling the Log4j library?"
2023-08-30T18:31:17.192Z
"We weren't just looking for a needle in a haystack, we were looking for a thousand needles in a million haystacks. We don't know where some of there are located."
2023-08-30T18:32:38.272Z
So how did teams act on this at scale, and at rapid pace?
Clear communication and coordination were key, she says. Teams went "back to basics". This included breaking the problems down into smaller, more manageable chunks with old-school classics like spreadsheets, documentation, and flow charts.
2023-08-30T18:33:53.642Z
Walcer et al created a concise, simple flow chart to help teams follow the correct processes for patching Log4j.
"It doesn't have a billion steps. It just communicates as directly and simply as possible what every team needs to do."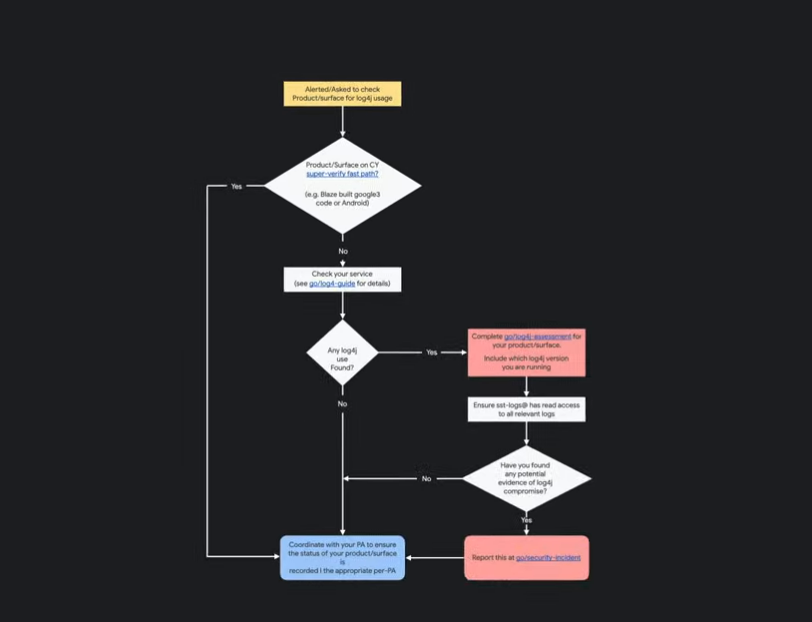 Teams never found any instance of successful Log4j exploit at Google. But a difficult week of round the clock security updates took its toll on the team.
"Incident management is a human expensive activity. It takes its toll on the people involved," she says.
2023-08-30T18:37:23.749Z
Google Cloud customers were safe and sound that week, Walcer says. All of this was down to the dedication of teams and the simplicity of their response. Sometimes going back to basics and doing the simple things well is the most impactful response.
2023-08-30T18:38:35.883Z
We're reaching the end of the developer keynote session here. Some very insightful discussions from champion innovators and key figures at Google Cloud.
2023-08-30T18:43:51.787Z
So what did we learn in this session?
• Vertex and Duet AI represent a potential tectonic shift for developer productivity and platform development efficiency. Certainly an exciting time at Google, and for the broader Google Cloud partner ecosystem.
• Legacy infrastructure can have a significant impact on developer productivity. It's an extensive, costly process modernizing but the benefits are clear and deliver long-term boosts. Don't slack on modernization.
• Concise communication and coordination in incident response is critical. We saw this with Google's response to Log4j. A truly herculean effort from teams who went back to basics and did things right.
2023-08-30T18:48:08.086Z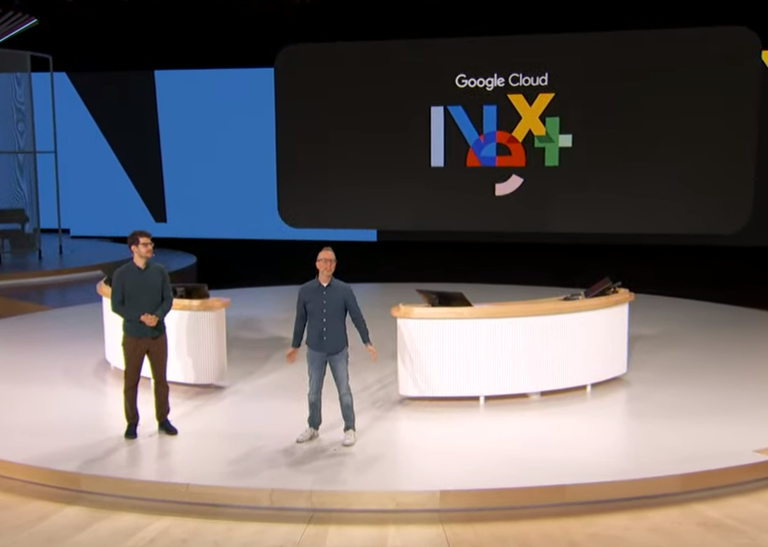 Richard Seroter is rounding things off with a call to action for developers to embrace change and modernize.
"Today we've seen the way we prototype our apps, modernize our platforms, and secure our workloads. Even the assumptions we have about our data are choices that keep us locked in the past," he says.
"We can challenge our assumptions even when we celebrate what came before."
See the original article here: ITPro