Recently launched by leading dental manufacturer COLTENE, HySolate Latex Dams are low protein and powder free. A spokesperson explains.
Replacing all powdered latex dams, this is a move towards healthier endo because the risk of latex hypersensitivity is greatly reduced. These dams create a dry operating field and infection control barrier, allowing you to work in a clean and moisture-free area while you concentrate on treating the tooth.
Minimise cross contamination of the root canal system, with superior isolation while also improving patient comfort. Made from pure, natural rubber latex, you get strong retraction with a comprehensive choice of thickness, colour and size. You can opt for either 127mm x 127mm or 152mm x 152mm (5in x 5in or 6in x 6in). For a scented version, select the HySolate Fiesta Dental Dam.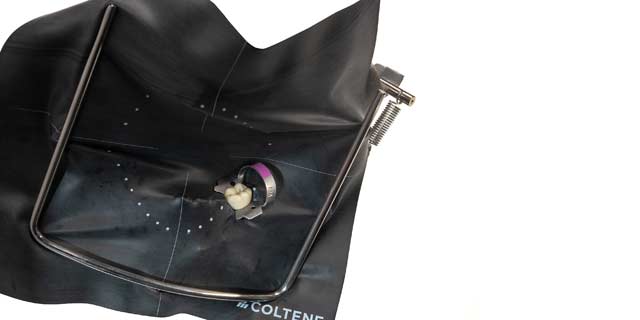 The flagship product of the range is the HySolate Black Edition. Its colour is a 'true' black, to help visual contrast, enabling you to see more detail on the treatment site. The Black Edition is also ideal for better photography, enabling superior record/note taking and planning.
HySolate also has the template pre-printed with the tooth positions, therefore removing the step of marking before punching and thus offering shortened treatment times with no compromise. This innovation is practical and intuitive, for comfortable and cost-effective endo.
As an alternative to the Black Edition, the light-coloured HySolate Latex Dam naturally illuminates the operating field.
HySolate Latex Dams are the latest addition to COLTENE's endo line for root canal treatments and retreatments. For conservative preps, COLTENE offers Hyflex EDM and CM files. If you prefer a single file system, or the clinical situation demands it, the MicroMega One RECI has superior cutting performance, while supporting the delivery of minimally invasive, safe treatments.
Or why not try the CanalPro Jeni for autonomous digital navigation of the endo canal. A beep will signal time to irrigate, or when a file change is recommended. There are also irrigation solutions, obturation and sealing materials and everything else in between.
Our team searches far and wide to find ideas and innovation that are user-friendly and actually work which is why dentists, specialists, dental nurses and practice managers around the world trust us to help them deliver successful treatment and an upgraded level of care to their happy and satisfied patients.
To discover more, visit www.coltene.com, email This email address is being protected from spambots. You need JavaScript enabled to view it. or call 0800 254 5115.
See the original article here: Dental Industry Review